It's a four-door, five-passenger car, powered by an all-electric drive system, boasting a range of 120 miles, manufactured by a company that may not ring a bell–CODA Automotive, a privately held American company that sells all-electric vehicles and battery systems. The "affordably priced" CODA Sedan will be available on a limited basis nationwide starting at the end of 2010, and recently, the company announced its intent to distribute the CODA Sedan to consumer and fleet customers in Hawaii in the third quarter of 2011.
This sedan, apparently, has a few things over the competition, including its CODA-designed 33.8 kWh Lithium-ion battery system, which reportedly frees up 40 percent more usable energy than any electric vehicle in its class. According to CODA, their proprietary battery management and thermal management systems help to keep this battery within a specified temperature range, enhancing safety and durability while allowing for a consistent and dependable range of up to 120 miles across all U.S. weather conditions.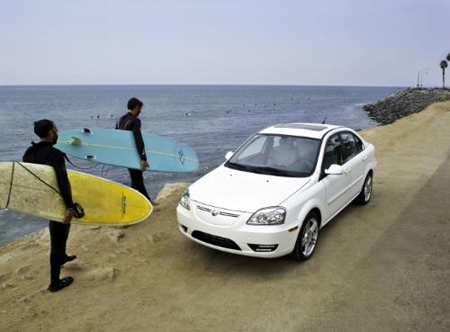 Under the 2008 Hawaii Clean Energy Initiative, Hawaii's vision is to have clean energy account for 70 percent of its total energy needs by 2030–an ambitious vision that CODA would apparently like to help it achieve.  The company notes that over 100,000 miles of use, each one of their sedans will result in an average CO2 savings of 21.8 tons relative to a 25 MPG internal combustion engine-based car.
"CODA Automotive's all-electric vehicle is another important addition to Hawai'i's efforts to transition to a clean energy economy," said Governor Linda Lingle of Hawaii, in a statement. "The State of Hawai'i recognizes new electric vehicle technology and the electrification of the transportation sector will play a critical role in helping Hawai'i reduce its dependency on the use of fossil fuels and achieving our 70 percent clean energy goal by 2030."
Like what you are reading? Follow us on RSS, Twitter and Facebook to get green technology news updates throughout the day and chat with other green tech lovers.