The electric vehicles (EVs) are coming, and smart companies are looking for ways to accommodate the changes EVs will make in our lives. Charging, for instance. What's a greenie lacking a garage to do? Are we going to bring our electric scooters indoors to plug in? Run an extension cord out the door to the Volt? And if we're using coal-fired electricity to charge our EVs, how green are they, anyways?
A company called Phat Energy offers a solution: the Phatport solar powered portable carport (which comes to us via Jetson Green). It's an easy-up portable shelter for your electronic transportation that uses the power of the sun to provide the juice, which can be set up anywhere (and taken down, of course, when and if you move). While the Phatport is still in the prototype stage, Phat Energy is currently accepting pre-orders on the first run of 350 and plans to make them customizable with lights, electrical outlets, dedicated EV chargers, and column design options.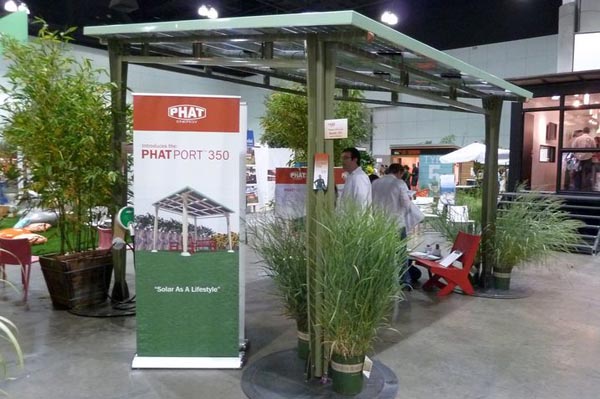 Clearly, this is an excellent solution to cutting emissions not only from the tailpipe (by using electric vehicles) but from coal plants, as well (by using off-grid energy to power them). Which of course makes us wonder how much this carport will cost. Pricing apparently has yet to be determined (and will fluctuate with options) but $37,000 is the working number, according to Inside Line, before available financial incentives. Yowza.
Like what you are reading? Follow us on RSS, Twitter and Facebook to get green technology news updates throughout the day and chat with other green tech lovers.