Amid the annals of cleanteach start-ups, you may recall a company called Husk as having won the 2009 MIT Clean Energy Prize. But there appears to be not one but two cleantech companies of that name, both of them focused on innovative uses for biomass–one of them known as Husk Insulation and one of them known as Husk Power Systems.
The focus of Husk Power Systems, according to Technology Review Indiana, is on using biomass gasification to generate electricity. This process not only saves hundreds of tons of carbon emissions, but it is also perfect for rural areas of India where rice husks are abundant and power is not–and where Indian farmers are currently paying transporters to get rid of all their left over biomass. Using their own sweat-equity and funds, the four co-founders of Husk Power Systems initially helped to bring power to the villages of Tamkuha and Dhanha, setting up power plants which produce electricity at the rate of 32 kilowatts per 50 kilo­grams of rice husk every hour, earning them recognition from the Ministry of New and Renew­able Energy in India (as well as a number of US institutions).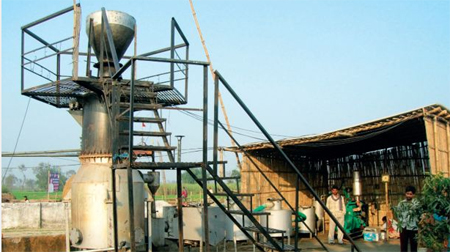 This work apparently gained Husk Power Systems the attention of big, well-funded interests like Shell and Acumen Funds, which is supporting the three year-old start-up in setting up 26 plants in 104 vil­lages, with plans to add another 35 plants by June 2010 and another 100 by the end of 2010. These electricity-generating stations will also help villages by providing jobs for local residents, who will run these "power plants powered by plants" themselves.
Like what you are reading? Have an RSS reader and want to follow us as we post stories and features daily? Check it out!