Thousands of  reservations for the upcoming Nissan Leaf suggests the Japanese automaker might be on to something in developing a consumer friendly electric car. Nissan is betting this to be the case and is going full tilt to build out its American Leaf infrastructure, commencing construction today on a manufacturing facility in Smyrna, Tenn., that will produce the lithium-ion batteries that power the electric vehicle.
Nissan said this plant, reportedly to be one of the largest vehicle battery manufacturing plants in North America at 1.3 million square feet at full capacity, will be ready in 2012. It will sit alongside a vehicle assembly plant being retooled to accommodate production of 150,000 Leaf cars annually. It is thought that the battery plant will be capable of producing 200,000 advanced-technology batteries annually. Until these plants come online, the vehicle will initially be produced in Oppama, Japan, and will be equipped with lithium-ion batteries being produced in Zama, Japan.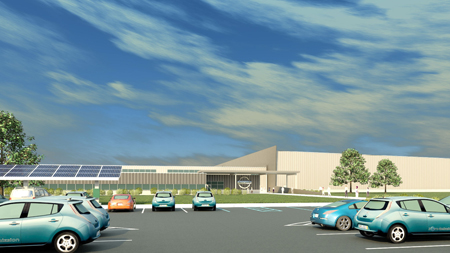 Both American Nissan Leaf plants will create up to 1,300 jobs when operating at full capacity. Nissan is pouring an investment of up to $1.7 billion into these plants, of which $1.4 billion of that is via a U.S. Department of Energy loan issued as part of the Advanced Technology Vehicles Manufacturing Loan Program, a $25 billion program authorized by Congress as part of the Energy Independence and Security Act of 2007.
Like what you are reading? Did you know EarthTechling writes up in-depth reviews of green technology products? Check it out!