Here's what looks to be an interesting electric vehicle offering from overseas: the new Luxgen EV+ (one of four vehicles due out from Taiwan's first auto brand, later this year) – an all-electric Multiple Passenger Vehicle (MVP) that combines some serious horsepower and range.
According to the company website, the Luxgen minivan style EV+ features AC Propulsion technology superior to that of Tesla's (a bold claim).  As far as specs go, the Luxgen EV+'s 180kW motor gives it 240hp of horsepower and 265 Nm of torque, which gets it from 0-60 in 8.6 seconds. It has a range of 217 miles or more and attains a top speed is as high of 90 miles per hour.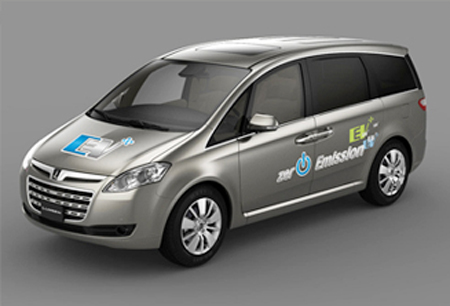 According to Autoblog Green, the Luxgen EV+ is being called "the world's first electric 7-Passenger MPV." Recently unveiled at the Dubai Motor Show, it makes use of a large lithium ion battery pack housed under the feet of its (potentially numerous) passengers.