As consumers become more sophisticated in their demand for home energy auditing options, so does the technology being developed for home use. Zerofootprint, a company that specializes in helping corporations track their carbon footprint, has recently introduced the TalkingPlug, a device that allows homeowners to track and control their use of electricity in the home.
The TalkingPlug plugs directly into a regular home duplex electrical outlet to relay information regarding a given appliance to a wireless router. Each TalkingPlug electrical outlet contains energy measurement instruments, on-off relays, appliance identification tags, and wireless networking technology, serving as a wireless communication node on a building energy network. Zerofootprint's VELOpulse interface displays data using graphical meters, showing trends and reports on energy consumption via the company's Web-based software.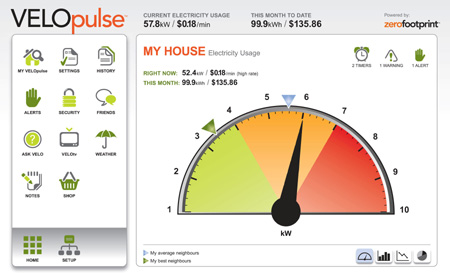 Dr. Ron Dembo, CEO and founder of Zerofootprint said, in a release, "As we move towards a world in which every plug and every light switch talks to the Internet, and carbon monitoring comes as naturally as breathing, we are witnessing a major cultural shift."  He adds that TalkingPlug makes environmental consciousness easy through software intelligence and automation. The company is currently working with utility companies, appliance manufacturers and technology resellers to bring the product to the global market.
Zerofootprint [via press release]