Solar power could be the ticket to increasing the efficiency and productivity of India's agricultural sector – and saving the government a ton of money.
That's a scenario outlined in a Bloomberg story that details how several big companies, including SunEdison, with significant investment government help, are aiming to "swap 26 million groundwater pumps for more efficient irrigation models powered by the sun."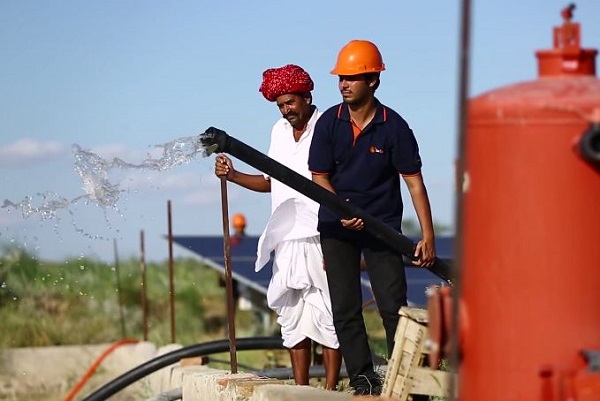 This is a fascinating case of taking solar power directly to where it's needed, using it as a distributed energy source, instead of feeding it onto the grid.
Now for sure, the latter is also something India is aiming to do. SolarServer reports that the Ministry of New and Renewable Energy is looking to the World Bank for financing help on a 750 megawatt solar project in Rajasthan state that would be just the beginning of an envisioned 4 gigawatt development, by far the biggest in the world.
But as helpful as that might be in the long run, right now distributed solar could hold key advantages in India, where one of the things that makes this new irrigation system necessary is the nation's decrepit and undersized grid.
The Bloomberg story describes a farmer who "used to be dependent on electricity from the state, sometimes only available four hours a day from an antiquated grid." Even worse, "When the power came on, it was often at night, meaning workers risked snake bites as they wandered into dark fields" to turn on the irrigation pumps.
Without big investment in grid infrastructure, massive new generating plants, even solar-powered ones, could be of limited value. But take that power right out into the fields, and you've got a whole different story.
"The potential is huge," Tarun Kapoor, joint secretary at India's Ministry of New and Renewable Energy, told Bloomberg. "Irrigation pumps may be the single largest application for solar in the country."
It's estimated that the solar-powered pumps could save $6 billion in power and diesel subsidies, while opening up vast new food production possibilities for farmers. In fact, a concern is that the farmers will have such an increased access to water, they might use it injudiciously. To make sure that doesn't happen, the farmers are required to use drip irrigation systems in order to qualify for financial assistance with solar water pumps.
Here's a SunEdison promotional video about the company's work in India: