The best portable solar panels are easy to use, durable, and competitively priced. Like a good friend, the best portable solar panels give you what you need.
Want to go camping? Find one that fits in a backpack.
Looking to power your entire RV? You'll need a lot more power, but there's still that perfect option out there for you.
We've highlighted our picks for the top 4 best portable solar panels in 2021 that excel in different situations, whether that's camping with friends, traveling, or RVing.
Each of our top picks for the best portable solar panels below enjoys great reviews from customers, is competitively priced, and excels in a specific area or for a specific use.
Top 4 Best Portable Solar Panels for 2021
---
Portable Solar Panel Reviews
Read on for an in-depth look at each one, and stick around until the end for a couple extra tips on choosing the best portable solar panels for you.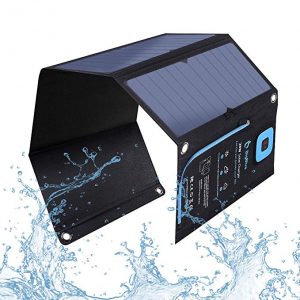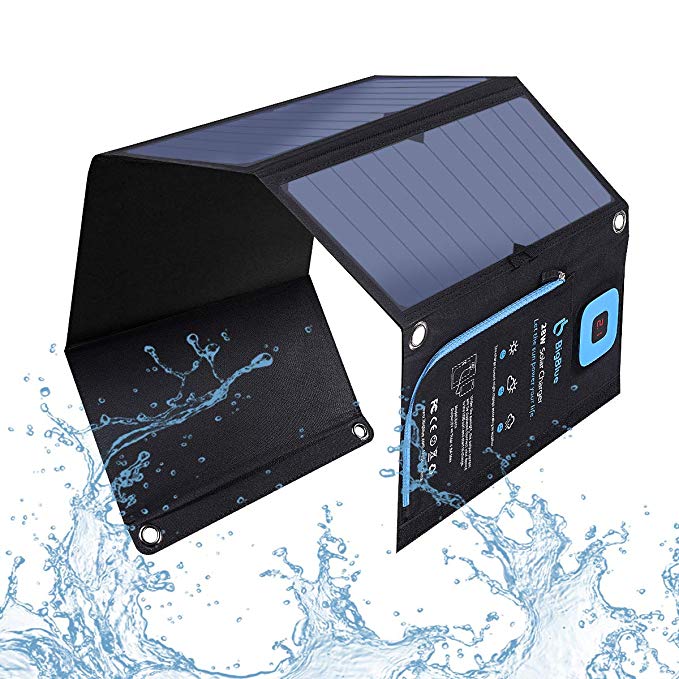 Best for Car Camping
Quick Specs: 2 USB ports, 2.4 amp max per port, 4 amp max overall
Check Price at Amazon
When you're camping next to your car, you want a balance of simplicity and comfort. You don't have all the creature comforts of your home, but you're not going on a 2 week ultralight backpacking trip either. You've got your smartphone, camera, flashlights, lantern, and everything else that you need to keep charged up.
For all these gadgets, you need a solar charger that balances portability with the ability to charge multiple items quickly. BigBlue's 28W Solar Charger is exactly what you're looking for. At 28 watts, it can pump out up to 4 amps total from the two USB ports and push varying amounts of electricity to each port, depending on the needs of the charging device. This lets each of your devices charge as quickly as possible, even when they're plugged in at the same time.
BigBlue sources its solar cells from Sunpower, which manufactures the most efficient residential solar panels on the planet. BigBlue's numbers prove it too, with a great efficiency of about 22%.
The 4 solar panels are wrapped in a heavy-duty canvas and fold down to 6" X 11". It weighs just 21 ounces, so it's small enough to throw in the back of your car and pop open whenever you need it.
The solar panel is rainproof and – the coolest part – the charger comes with a built-in ammeter so you know exactly how many amps are available at any time! BigBlue's solar charger comes with a 24 month warranty – twice as long as similar products – and customers praise both the device's durability and performance.
Bottom Line: If you're looking for a compact solar panel to charge multiple gadgets while camping, check out BigBlue's well-reviewed solar charger.
Learn More & Buy Now at Amazon
---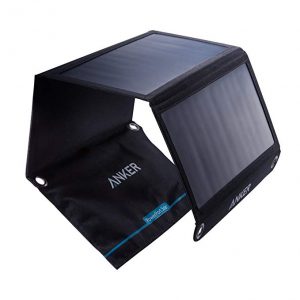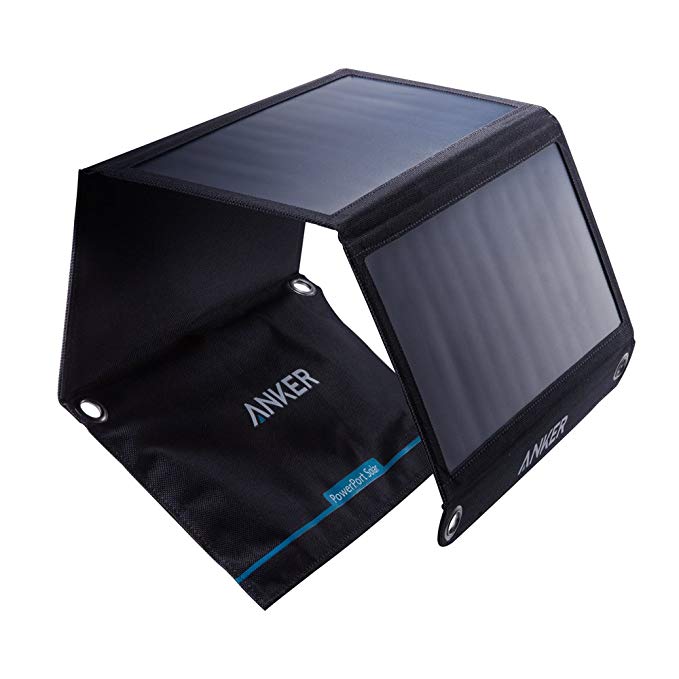 If you're a frequent traveler, having a small solar panel to charge up your smartphone or camera while out and about can really save the day.
While the Anker 21 watt solar charger might look quite similar to the BigBlue option above, there are a few key differences. First off, this product is just a tad smaller, coming in at 21 watts. Thanks to the Sunpower solar cells though (the same as above), you're still able to see decent production and the charger comes with 2 USB ports.
The real benefit though? This solar charger comes in just over a pound and just 0.7" thick when folded. About the same size as a Chromebook, this thing is easy to throw in a backpack while traveling around the city, seeing the sites.
The 3 solar panels are encased in durable, heavy canvas, just like the BigBlue charger above. It's water- and dust-resistant as well.
Anker is the king of small-scale electronic gadgets, from solar panels, to portable batteries, to portable speakers. Their products are widely loved for their economic pricing and great durability. There are thousands of happy reviewers of this product (and others) online, with many either using it or sending it to friends and family to use in the devastation following the hurricanes in Puerto Rico.
Anker is well-known for both their decent warranties (18 months) as well as their excellent customer service, so even if something did go wrong, you don't need to worry.
Bottom Line: A durable, quality product perfect for throwing in your backpack while traveling overseas.
Learn More & Buy Now at Amazon
---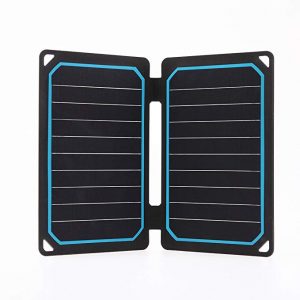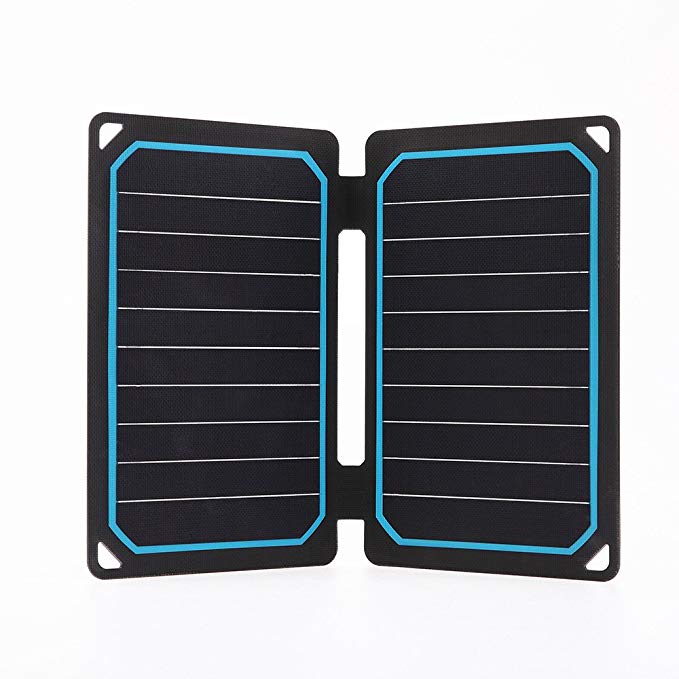 When you're backpacking in the great outdoors, you're carrying everything you need right on your back. Every extra pound of equipment you bring is an extra pound weighing you down while you hike mile after mile. When backpacking, reducing weight is the name of the game.
Thankfully, solar manufacturer Renogy has answered the call with their E.Flex 10W Ultra Thin solar panels. They're about as simple and lightweight as you can get. There's no heavy canvas, no unnecessary doo-dads, no Velcro. Just 2 small solar panels encased in a foldable, lightweight laminate.
Folded up for packing, this solar charger is just 0.16" thick and weighs 11.2 ounces – less than a pound. It comes with a single USB port and can supply 2 amps in full sun. There's a hole punched in each corner, which you can easily clip to your backpack with the two included carabiners.
The solar charger is water resistant so you can leave it out in a light sprinkling, but it's not completely waterproof, so pack it away if clouds start rolling in.
Renogy designed the solar panel to auto-optimize after periods of shade. Other solar chargers, after their amperage drops due to shade, have a hard time returning to full power without the user physically unplugging the gadget and plugging it back in. Thanks to this auto-optmization, this isn't an issue with the E.Flex.
Like we mentioned in our review of Renogy's Solar Suitcase above, Renogy's products are always well-reviewed by their customers and this one's no different. A handful of users did note that the charger works its magic quite slowly, but at 10 watts that should be expected.
Bottom Line: Renogy's E.Flex solar charger is a lightweight, ultra-thin charger that you can easily drop in your backpacking backpack and clip to the outside while hiking.
Learn More & Buy Now at Amazon
---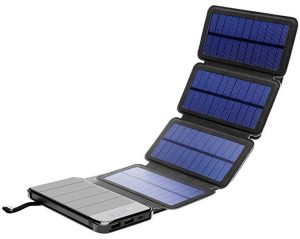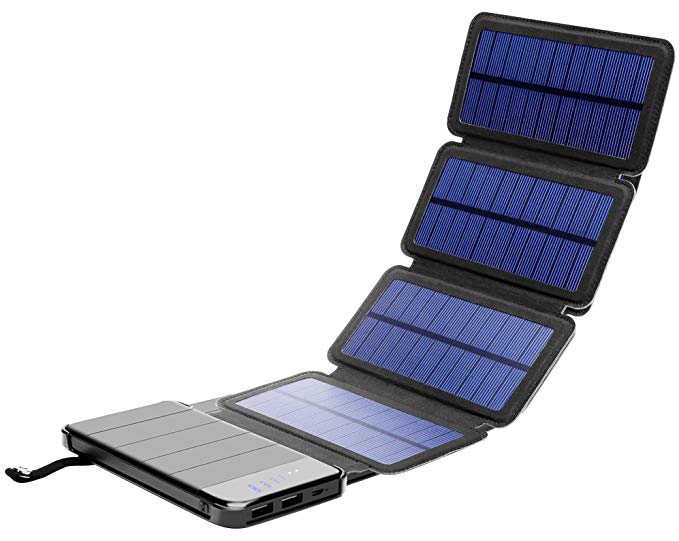 All of the solar panels above are simply that: a solar panel. However, if you're out and about town all day, playing Pokemon Go or just using your phone for navigation, you'll quickly find your smartphone's battery close to zero, leaving you stranded in a corner of that city park you've never been to, with a half-caught Pokemon character next to you.
If you've got utility electricity waiting for you at home and just need a quick fill-up on power, take a look at the battery + solar options out there. These combine a small power bank (typically around 10,000 to 20,000 mAh) as well as 3 to 4 small solar panels to recharge the battery bank if needed. They're perfect for charging your phone on the bus or in the park, and are quite economical.
These battery + solar systems are really designed to be charged at home, with the solar panels to keep your battery topped up. The solar panels are simply too small to fully charge the battery. However, if you're just out for the day, they're the perfect option to keep you connected.
iBose's Power Bank + Foldable Solar Panels is a compact, well-designed charger designed to keep you moving. The 10,000 mAh battery can recharge your smartphone 2 to 4 times (depending on the model) and the four attached solar panels can top off the battery while you're on the move. You can easily detach the battery from the solar panels and there's even a flashlight integrated into the battery bank.
The battery bank includes two USB ports and one USB-C port, so you can charge multiple devices at once. Customers report that the battery and solar panels work well and the device comes with a 12 month warranty.
Bottom Line: An easy way to keep your phone topped off when you're a woman about town, just don't forget to give it a deep charge at home when your day is over.
Learn More & Buy Now at Amazon
---
Tips for Choosing and Buying the Best Portable Solar Panels for Your Needs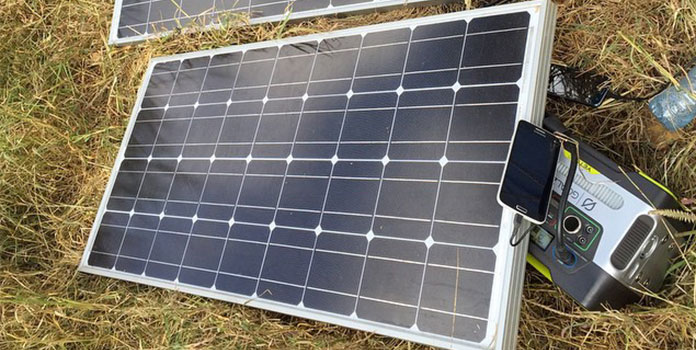 Before you make a decision, here are a few tips to help you decide what's right for you.
Choose the Right Type for Your Situation
There are really two kinds of portable solar panels, small ultra-portable phone chargers and larger, rigid solar panels for RVs. Be sure to choose the right one for you:
Small, folding solar panels are designed for camping or travel. Most of these are covered in heavy-duty canvas and produce between 10 and 30 watts. They come with USB ports pre-attached so you can easily charge your phone or camera and typically weigh one or two pounds so you can easily throw them in a backpack.
Larger, rigid solar panels are designed to charge leisure batteries in RVs or campers. These solar panels are typically glass-covered and produce between 80 and 100 watts. Instead of USB ports to charge your phone, these include a charge controller that connects to your RV's leisure batteries.
These solar panels can typically fold in half for easier transport and include legs to stand the panel in the sun. They generally weigh around 25 to 30 pounds and include handles for easy transport.
Don't Focus on Cell Type
Manufacturers might tout monocrystalline solar cells as more efficient and worth the premium cost, but we're here to say that's not necessarily what you should focus on. These days, many polycrystalline solar cells are just as good as their mono brethren. Instead of focusing on cell type, look at cost and wattage. Those are the more important factors to consider!
Warning: Don't use the pocket!
If you purchase one of the small, camping/travel solar chargers above, be sure to avoid putting your smartphone in the included pocket (if it has one). Many reviewers have reported that their smartphones overheat when they leave it in the pocket, which is typically heavy black canvas left in the sun. Instead, just place your phone underneath the solar panel or in nearby shade. A simple, but necessary fix!
We hope you found our list useful!
We've looked at five great solar panels for numerous different situations to help you find the best portable solar panels for your needs.
Compare the 4 Best Portable Solar Panels for 2021