Solar power in the U.S. is growing fast, and it looks jobs are coming along for the ride: The nonprofit Solar Foundation's latest survey, released on Monday, shows a 20 percent gain in solar employment since September 2012, giving the industry 142,698 positions as of November 2013.
The surge in jobs – many in the high-paying installation sector – means that during the period covered by the survey, "one in every 142 new jobs in the U.S. were created by the solar industry, and each day the solar industry creates 56 new jobs across America," the Solar Foundation said.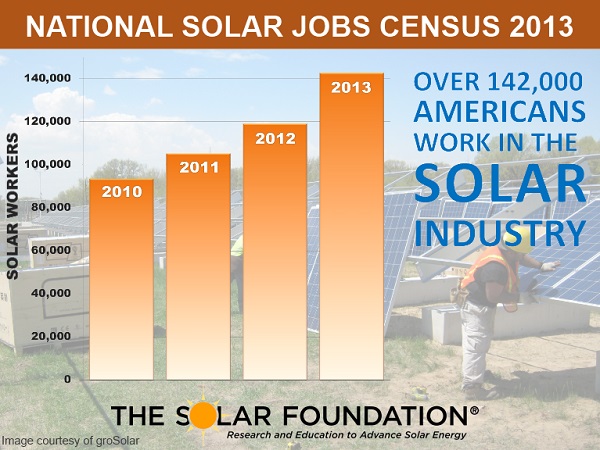 During that same period, the amount of solar power installed in the country grew from around 5.9 gigawatts to more than 10 GW. Forecasts for 2014 installations are strong – and so too is the jobs forecast.
"Solar employment is expected to grow by 15.6 percent over the next 12 months, representing the addition of approximately 22,240 new solar workers," the Solar Foundation said. "Forty-five percent of all solar establishments expect to add solar employees during this period."
Who qualifies as a "solar worker"? According to the Solar Foundation, it's "an employee who spends at least 50 percent of work time supporting solar-related activities." If that sounds a little loose to you, the group says that "approximately 91 percent of those who meet our definition of a 'solar worker' actually spent 100 percent of their time working on solar."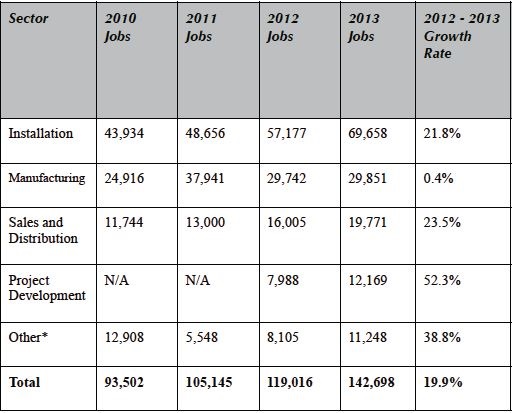 A lot of the noise surrounding U.S. solar jobs has been about the struggles of the manufacturing sector, where U.S.-based companies have won judgments against China's industry for product dumping and unfair subsidies. After a big decline in 2011, when a tsunami of Chinese panels came into the market, that sector has held steady, with 29,742 jobs in the previous survey and 29,851 in the new one. But manufacturing was always second to installation as the top solar job category, and the gap is only growing.
There were 69,658 workers in solar installation as of November 2013, and two-thirds of the recent new solar hires were in installation. The foundation noted that "(i)nstaller jobs, which cannot be off-shored and earn an average of $23.63 per hour, are expected to increase by nearly 15,000 next year."