The equivalent of a 5-megawatt solar farm every hour of every day – that's how much new solar photovoltaic power is being installed around the world right now, according to a leading industry analyst, and it's a surge that will help the industry to a mammoth total for 2014.
NPD Solarbuzz said it sees demand reaching 49 gigawatts in 2014, a huge leap from 36 GW in 2013 (a number likely to be arrived at after a record-breaking 12-GW fourth quarter).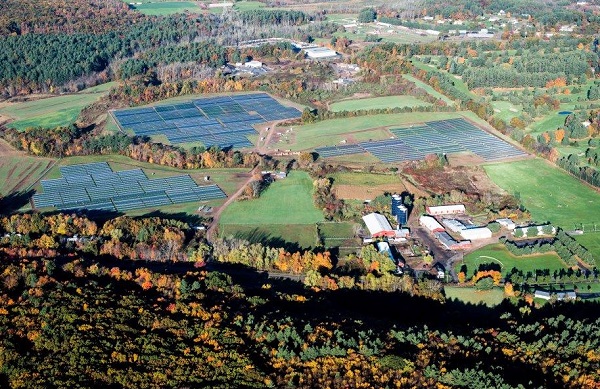 While plenty of solar went in over 2011 and 2012, the rate of growth of new installations had practically stalled, with around 30.4 GW of PV systems installed in 2011 and 31.3 GW installed in 2012, according to the European Photovoltaic Industry Association [PDF].
But after a difficult period of right-sizing in the manufacturing sector and declining subsidies and flattening growth in Europe, capacity is now more in balance with demand, which appears particularly strong in China, Japan and the United States, NPD Solarbuzz said. This has the best solar companies salivating worldwide.
"The solar PV industry has reached a critical tipping point, with end-market demand hitting record levels almost every quarter," Finlay Colville, vice-president at NPD Solarbuzz, said in a statement. "This growth is being driven by leading module suppliers and project developers that returned to profitability during 2013, and which have now established highly-effective global sales and marketing networks."
In the past, it was Europe that drove solar's gaudy growth rates, but in a maturing market there, feed-in tariffs and other subsidies have waned (as they were intended to in many cases), slowing growth. But not to worry, NPD Solarbuzz said.
Over the six-month period from October 2013 to March 2014, the solar PV industry will install almost 22 GW, which is greater than all the solar PV installations that occurred between 2005 and 2009, during the previous high-growth phase of the industry that was driven by the European market…. The record solar PV demand in Q4'13 is heavily weighted towards the three leading countries for end-market demand today: China, Japan, and the United States. Two-thirds of all solar panels installed in Q4 will be located in China, Japan, and the US.