New York mayor Michael Bloomberg is on his way out, but not before getting a long-talked-about big solar power project firmly moving forward for the old Fresh Kills Landfill, which is being reclaimed and turned into a park.
Bloomberg, who will leave office at the end of the year, announced a deal under which the city will lease about 47 acres of the Staten Island site to SunEdison for a solar power plant that will be able to generate up to 10 megawatts. The city said that will be enough to increase NYC's present solar power production by 50 percent.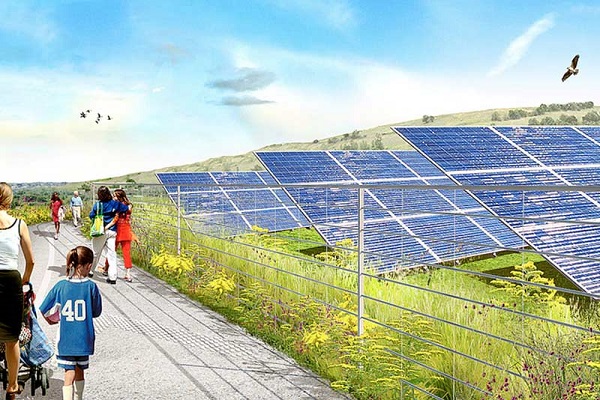 A few months ago, the U.S. Environmental Protection Agency released a report that said there are 66,000 contaminated lands, landfills and mine sites across the country where renewables could safely be built – a figure up dramatically from 24,000 in an early mapping by the agency.
"At Fresh Kills, a mountain of trash is becoming an oasis of green, with room for parks, wildlife and renewable energy," Andy Darrell, regional director and chief of strategy for energy at the Environmental Defense Fund, said in a statement accompanying the announcement. "The price of solar panels is at historic lows, and it's innovation like this that can help make the benefits of solar power available to more New Yorkers."
Nearly two years ago the city had put out a request for proposals for use of up to 75 acres of the brownfield to produce power using solar or wind, with the thinking that 20 MW of generating capacity could be possible. The city said that getting the 10 MW of solar from SunEdison will take a lot of bureaucratic work, including mapping 1,500 acres of what is becoming Freshkills Park, as well as massaging regulations to allow for fairly large-scale energy production and grid connection at the old landfill site.
"SunEdison has done many comparable installations at other closed landfills in the northeast. This will be the first of its kind in NYC," said sanitation commissioner John Doherty. "This will be the first of its kind in NYC. The designs will take into account that during the installation and operation of the solar panels, the city (DSNY) will continue its post-closure monitoring and maintenance obligations, which are mandated by a Consent Order with the state."
Editor's Note: This story was updated shortly after publication to correct the amount of additional solar power the planned Freshkills Park array will provide New York City.