Japan this week celebrated the opening of the largest solar photovoltaic power plant in the nation, a spectacular 70-megawatt installation in Kagoshima City on a big plot of largely undeveloped land that juts out into Kagoshima Bay.
The Kagoshima Nanatsujima Mega Solar Power Plant, which was developed by a group of companies headed up by Kyocera, is yet another sign of Japan's rising solar profile. In September, market tracker Solarbuzz reported that Japan had exceeded 10 gigawatts in installed solar PV capacity, becoming the fifth country to do so (after Germany, Italy, China and the U.S.).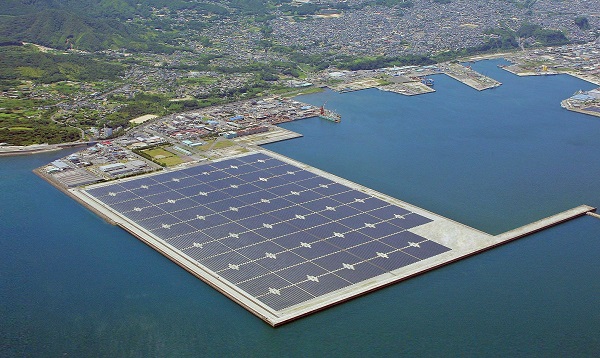 Japan was actually an early leader in solar in the 1990s and by 2004 it had become the first country to reach 1 GW of cumulative solar PV. But it largely abandoned solar in the mid-2000s, favoring nuclear power. Well, as we all know, nuclear took a drastic and tragic turn in Japan in March 2011. And in July 2012, the federal government launched a generous feed-in tariff (FIT) program to get solar going again, and boy has it worked. According to Solarbuzz:
Cumulative solar PV installed in Japan broke through the 10 GW barrier during August 2013 and exceeded 10.5 GW at the end of August.
Until the end of 2012, the Japanese PV market had been heavily weighted towards the rooftop segment, with 97 percent of PV capacity.
During the first eight months of 2013, the ground-mount segment has accounted for 27 percent of new solar PV capacity installed.
Over the first three quarters of calendar year 2013, Japan is forecast to install more PV capacity than during the entire three-year period spanning 2010 to 2012.
So the Kagoshima Nanatsujima Mega Solar Power Plant fits with not just the rise of solar power overall in Japan, but with the country's trend toward bigger systems. Constructed over a 13-month period, the plant covers nearly 1.3 million square meters (noted by the baseball-obsessed Japanese as "the same area as 27 baseball stadiums") and is expected to produce about 78,800 megwatt-hours of electricity annually, equal to the amount of electricity used by 22,000 average Japanese households.