The highly anticipated first federal auction of a solar lease was held last wek in Colorado, for parcels in two of the newly designated federal solar zones, where the government thinks big solar can be built with minimal environmental impact. But, oops, no bidders showed up. How and why and what does it mean? Speculation abounds.
On the arch-conservative Michelle Malkin blog, the auction failure was discussed as proof that solar power is a "really, really bad bet" and then in the comments it got really weird with Obama this and Obama that.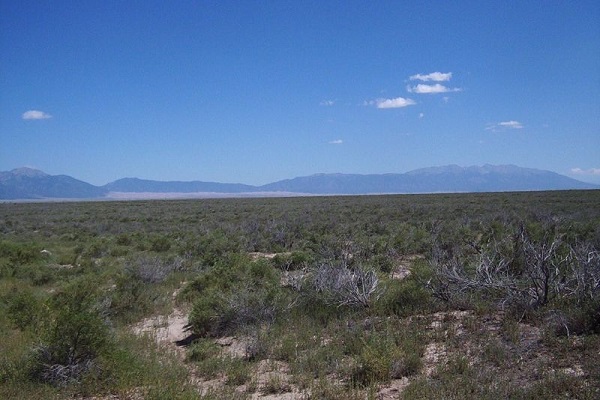 The Wilderness Society didn't quite see it that way. They reminded their blog readers that the Bureau of Land Management held the auction "because it received 27 total responses to a public notice on the land parcels this spring, including five formal applications for development." So there's clearly still interest in developing big power plants out there. The society added, too, that "interest in development has been expressed for other zones, such as the Dry Lake zone outside of Las Vegas, and there will be many more opportunities to advance solar energy development in the zones."
The Solar Energy Industries Association told the Denver Post that it came down to continuing financing challenges for big solar. That and the fact that "the ground rules are still very much in question" for development of these new solar zones, instituted last year by the Department of the Interior to smooth renewable energy development by demarcating swaths of land where environmental, logistical and cultural conflicts were less likely.
Ken Borngrebe, environmental permitting manager for the big developer First Solar, told the Post that market uncertainties were to blame. "It may come down to the lack of confidence in the market for solar today," Borngrebe tsaid.
Chris Clarke at the ReWire blog, an opponent of big solar, took this idea and ran with it to build a pretty strong case that right now, the smart money is headed over to distributed solar because it offers a quicker and more certain path to return on investment than massive utility-scale projects. The Wilderness society had pointed out that the feds have permitted projects that total more than 8,000 megawatts of power production on federal land, but Clarke noted that little of that vast total is up and running. The 377-MW Ivanpah power plant, for instance, is supposed to be in commercial operation any day (or maybe week, or month) now, after many years of planning and more years of construction, but as Clarke said, "In the months since January 2011, by contrast, at least 377 megawatts of generating capacity has been installed on residential rooftops in the state."
As for the BLM, it called the Colorado non-auction a "learning experience" and vowed to "regroup and figure out what didn't work."
For solace, they might check in with their colleagues in Wyoming who, in August, held a lease sale for 149 million tons of publicly owned coal. The number of bids there? Zero.