With the latest awards through SunShot, the federal program that aims to cut the cost of solar power, the Obama administration is taking a bit of a shotgun approach, firing away at a broad spectrum of challenges.
The Department of Energy said $60 million in SunShot Initiative funding would be split among its incubator program for startup companies; four projects intended to drive the efficiency of single-junction solar cells higher; eight projects aimed at improving grid integration; and, finally, efforts to educate and train workers in the solar sector, including more minorities.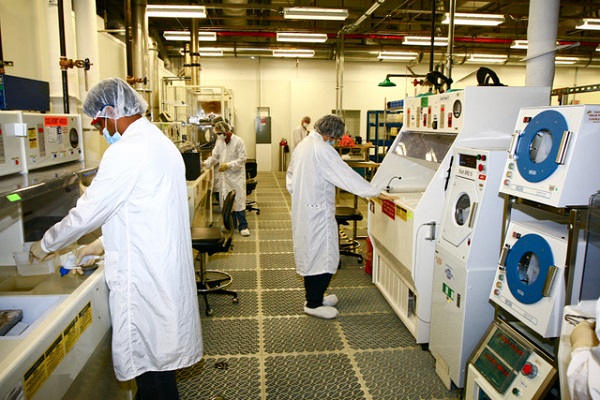 This latest funding announcement comes just a couple of months after researchers at UC Berkeley's Energy and Resources Group reported that if SunShot hits its goal of bringing the price of solar power down to the level of conventional power by the end of this decade – that would be a 75 percent drop from 2010 to 2020 – solar could provide more than a third of the North American West's electricity by 2050. All this while hitting aggressive greenhouse-gas emissions goals and trimming annual electricity costs by $20 billion compared to the scenario now considered likely.
Here's the breakdown of the new awards, as outlined by the DOE:
$12 million across 17 companies to help commercialize a wide range of technologies and services – from online tools that can map a rooftop's solar potential in seconds to automated installation systems for utility scale photovoltaic plants. The department says that since 2007, more than 50 American startups have participated in the SunShot Incubator Program – attracting more than $1.7 billion in private sector backing, or nearly $18 for every $1 of government support.
About $16 million to four projects that will help develop solar devices that approach the theoretical efficiency limits of single junction solar cells, or about 30 percent efficiency. Another $7 million will go to develop stronger, more reliable solar components as well as dependable performance tests for microinverters and microconverters.
$8 million to help utilities forecast and integrate high levels of renewable energy generation into the grid, while ensuring reliable and affordable power. For example, AWS Truepower will help California utilities feed cost-competitive distributed solar directly into the power grid, while the National Rural Electric Cooperative Association will help 150 U.S. counties deploy new solar capacity and model streamlined financing and installation processes for electric cooperatives nationwide.
$15 million to develop power engineering curriculum and launch four regional training consortiums and $1 million to Delaware State University and the University of Texas at San Antonio to provide solar energy research and education opportunities to minority students.
SunShot spending has been running around $300 million a year, by our calculation. No small sum, but as we've pointed out before, that amounts to 0.2 percent of what the U.S. has annually spent on its post-9/11 wars in the past ten years.