Another World Solar Challenge is now in the history books. The 2013 edition, which saw entries from a range of universities around the world slug across the Australian outback under solar power, has a winner in the primary Challenger class. Delft University of Technology, who has previously won the race, took the title back from last race winner Tokai University in what was called a thriller of a finish.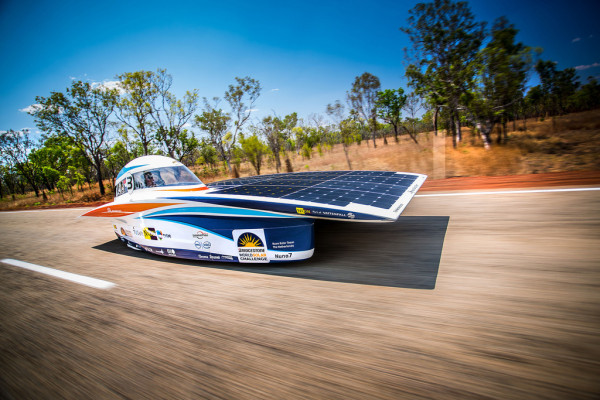 The Delft team, racing in their solar car Nuna7, fought a close battle, said race officials [PDF],
until the last 50 kilometres. The gallant team Tokai from Japan gave it all they had. The two teams shared the final checkpoint in Port Augusta just minutes apart. But as the rain came down and the clouds rolled in it became clear the Japanese team in their solar car Tokai Challenger were not going to be able to close the gap. There was drama for Team Tokai who were forced to stop and recharge. They were able to travel slowly into Angle Vale at 1.22 pm Darwin time in a time of 36.37 hours with an average speed of 82.43 kilometres per hour. Team Tokai were not able to proceed to the Official Finish line as they did not have enough solar power to travel at a safe speed in traffic.
With this win, the Dutch team has now won a total of five times, making them the "absolute record holder." The vehicle they were driving is their first four-wheel solar race car, and was designed from scratch. It made use of so called "concentrators," a device used to optimize (or concentrate) the efficiency of solar power , so that the vehicle was "fueled" with additional energy for those moments when the sun does not shine or shines less. This technology edge helped those behind the wheel to cover 3,021 km over 33.05 hours at an average speed of 90.71 km/h.
As for the American entries, Stanford Solar Car Project came in fourth, with a posted time of 39 hours, 31 minutes, while the University of Michigan slipped in much later, placing ninth with a time of 45 hours, 55 minutes. A total of 13 other teams in this racing class alone either trailered their vehicles along the course, or withdrew altogether prior to the start of the race, proving how grueling of a challenge this event truly can be.