In many cases, tablets have replaced laptops as the go-to portable computing device. If your needs are limited to web surfing, social media, and checking email, tablet deliver without all the extra size and weight. That's why Voltaic Systems has launched a solar charging bag that's perfectly suited for tablets.
The redesigned Switch Solar Bag might just be the world's perfect unisex carry-on: In addition to a powerful solar panel, the bag now boasts a fitted tablet sleeve plus a lot more room for everyday essentials like a water bottle or camera.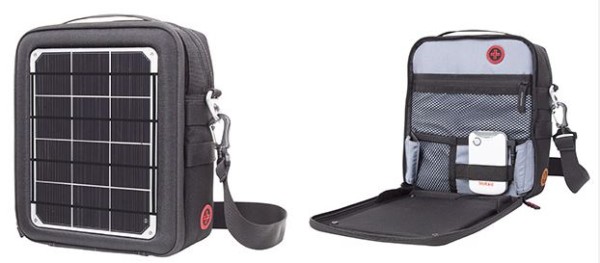 For those used to lugging around a backpack or laptop bag on a daily basis, the Switch V2 will be a welcome relief. The compact size is perfect for your 7″ tablet, a phone, camera, and water bottle–everything you need for a short hike or a weekend flight to your favorite getaway.
Like all Voltaic products, the Switch V2 also features 6 Watts of rugged solar power, a 15 Watt-hour universal battery, and protective storage for your tablet. According a press release, "the Switch provides up to 80 minutes of runtime on an iPad Mini, or other 7″ tablet, for every hour in the sun. It will also charge smartphones, GoPro cameras and other USB devices."
Whether it's being kicked on the bus or bounced around in a trunk, Voltaic knows that their solar bags will take a beating. That's why the high-efficiency monocrystalline cells on the Switch V2 are "encased in a clear, UV and scratch resistant coating, and backed by a rigid aluminum composite material."
The included V15 USB battery stores up to five Watt hours of energy, which is enough to charge an iPhone 1.7 times and an iPad Mini 2/3 full. The Switch V2 can also recharge a typical smartphone in less than four hours.