Alta Devices, continuing to position itself for the mobile market, is now talking up its gallium arsenide thin-film solar cells for use in unmanned aerial vehicles. Aka, drones. It could be a fruitful play, what with solar-powered flight seeming more viable than ever after Solar Impulse's impressive cross-country trip. The only issue might be the privacy pushback that drones are getting in some quarters.
"In the past, solar solutions for powering these vehicles were either too heavy or could not produce enough power for long-range flight, or both," the company said in a recent release. "However, a small UAV outfitted with Alta Devices' mobile power technology can produce enough power, while adding practically no weight, to fly indefinitely under the sun."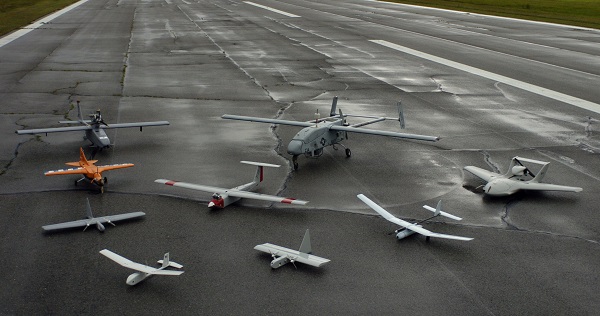 Alta Devices appears to have what it takes to do well with mobile applications. It isn't the only player in the market, but the efficiency of its thin-film panels is impressive – the company holds world records for both cell and module single junction conversion efficiency, and the cells' flexibility could also give them an edge.
Traditional solar cells are made from silicon, a semiconductor abundant in Earth's crust, but gallium arsenide has properties that allow higher electron mobility. It is currently used on orbiting satellites and space exploration vehicles in NASA's Mars Exploration Rover Mission.
Gallium arsenide "absorbs photons 10,000 times more strongly than silicon for a given thickness but is not 10,000 times more expensive," according to co-founder Eli Yablonovitch, who is also director of the NSF Center for Energy Efficient Electronics Science at Berkeley. Still, the challenge in using gallium arsenide is cost, but Alta Devices says that by growing extremely thin layers of GaSa, it needs to use incredibly small amounts, trimming the outlay.
Earlier this year we saw Alta Devices show off designs for what it called "the world's lightest, and highest energy density, flexible military charging mats."

In talking up the drone possibility, the company avoided the term "military," instead emphasizing hard-to-fault uses such as mapping wildfires, doing search-and-rescue missions and monitoring large agricultural operations.
"According to a report published by the Association for Unmanned Vehicle Systems International (AUVSI), precision agriculture and public safety represent over 90 percent of the potential for civil UAS use and will result in an economic benefit to the United States of $82 billion between 2015 and 2025," the company said.
Alta Devices said that in the case of a "typical small UAV with a 9-foot wingspan," material weighing just 4.5 ounces would be able to generate around 125 watts of power – "In many cases … enough power to sustain flight and keep an on-board power source fully charged."