After two very tough years of retrenchment and rebalancing, things might be looking up for solar manufacturers.
The sector was beset by overcapacity after China unleashed a flood of photovoltaic cells and panels late in the last decade, but there are reports now that some of the biggest companies are at their production limits and could be seeking to expand. A new analysis by NPD Solarbuzz sees a surge in demand from Asia as a key factor in the revival.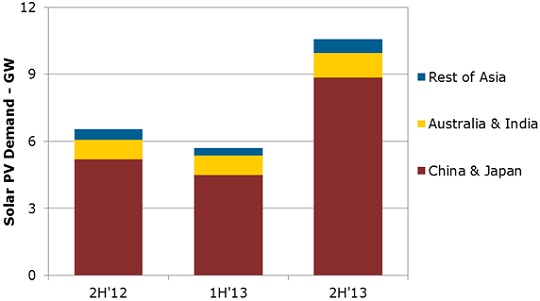 "The record level of PV shipments to China and Japan coincides with corporate margins returning to positive territory and the final shakeout phase of uncompetitive manufacturers nearing completion," Finlay Colville, vice president at NPD Solarbuzz, said in a statement. "Having entered 2013 with a highly cautious outlook, tier-one suppliers are poised to exit the year with restored confidence, ahead of optimistic shipment and margin guidance for 2014."
In fact, Bloomberg is reporting that three tier-one companies – Trina Solar, SunPower and JinkoSolar – "are producing panels at full speed and contemplating plants to expand capacity to meet surging demand in Asia."
China in the past year or so shifted its focus from exporting, exporting and exporting some more, to actually putting panels up to produce energy. NPD Solarbuzz said it's happening with projects big and small:
During the second quarter 2013, rooftop installation demand in China exceeded ground-mount installations for the first time, stimulated by government plans to develop the distributed generation segment. However, as bottlenecks related to project financing and grid accessibility for solar farms are resolved, the second half of 2013 will see strong ground-mount deployment from China Power Investment, China Guangdong Nuclear, Three Gorges Group, and other utility developers.
Japan, meanwhile, has turned itself into a solar hot spot with a generous feed-in tariff instituted last year. As NPD Solarbuzz sees it:
Japan continues to be the most active PV market this year, with growth of 150 percent in 2013 compared to the prior calendar year and a forecast of over 5 gigawatts in the pipeline for installations before the end of the second quarter 2014. PV demand in Japan during the second half of 213 will be driven by the commercial and utility segments with 65 percent market share, in contrast to the second half of 2012 when the residential segment accounted for over 75 percent of demand.