GE has grown a big business out of wind energy, becoming either the No. 1 or No. 2 manufacturer in the world, depending on whose research you buy. Solar panel manufacturing? That hasn't gone so well, and GE on Tuesday more or less threw in the towel on making cells and modules, selling its thin-film technology to First Solar.
Back in April 2011, GE looked to be making a big panel play after it completed the acquisition of thin-film company PrimeStar Solar, signaling that it would compete with the category leader – First Solar – with its own, new cadmium-telluride (CdTe) panels. Then in October that year it pegged Aurora, Colo., as the site of what was envisioned to be the largest solar plant in the United States. But less than a year later, in July 2012, with the solar market in a state of extreme oversupply, the company put that plant on hold.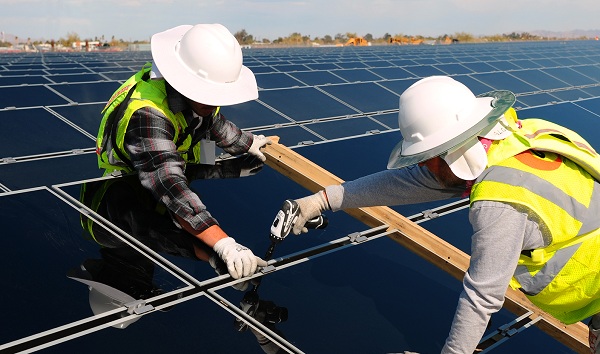 Now GE's panel retreat is complete.
In the deal announced on Tuesday, GE will sell its CdTe intellectual property to First Solar in exchange for 1.75 million shares of First Solar stock – valued around $80 million at yesterday's closing price. First Solar said it will put GE's CdTe technology to work in its existing plants to "achieve an increasingly competitive cost position," while the on-hold Aurora plant will be fully abandoned by GE.
"We are creating an exciting synergy with this deal," Jim Hughes, First Solar's CEO, said in a statement. "The addition of GE's PV thin film technology and R&D resources will advance our technology roadmap, while realizing cost reduction in our manufacturing process."
The move by GE doesn't take it completely out of the solar game; the company noted that it would "partner with First Solar to accelerate innovation and bring our complementary technology and R&D to market faster through its manufacturing capabilities." That would be inverters, which First Solar will continue to buy from GE Energy Management.
"By combining complementary technologies, the collaboration is expected to lead to an improvement in solar grid integration, more competitive cost structures and a roadmap for combined electrical equipment," the companies said.