A damaged wing couldn't deter the sun-fueled Solar Impulse airplane from completing the last leg of its cross-country hopscotch from Silicon Valley to Phoenix to Dallas-Fort Worth to St. Louis to Cincinnati to Washington, D.C., and then, on Saturday, to the Big Apple, New York City.
In fact, the alarming development resulted in the Swiss airplane arriving early, touching down at John F. Kennedy International Airport at 11:09 p.m. EDT, three hours ahead of schedule.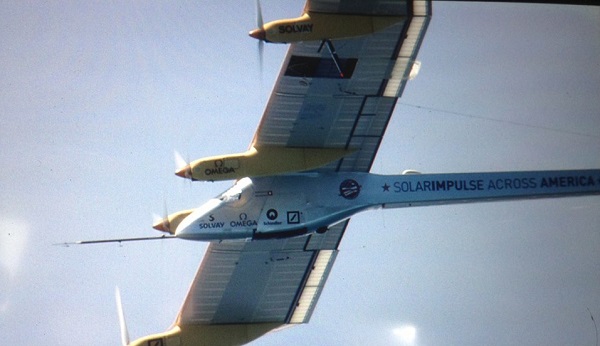 "This last leg was especially difficult due to the damage of the fabric on the left wing," pilot André Borschberg said shortly after landing. "It obliged the team to envisage all the possible scenarios, including bailing out over the Atlantic. But this type of problem is inherent to every experimental endeavor. In the end, this didn't prevent us from succeeding in our Across America mission and provided an invaluable learning experience in preparation for the round-the-world tour in 2015."
There was no word on what might have caused the damage, which came to light after Borschberg experienced a balance issue with the plane. At 6:30 p.m., Solar Impulse put out this message: "After a first analysis from pictures taken from a helicopter, Solar Impulse engineers came to the conclusion that the damage would not worsen. Pictures taken 2 hours later, have confirmed that the situation remains stable."
Typically, the Solar Impulse HB-SIA arrives near its destination airport a few hours early, then maintains a holding pattern until after midnight, when commercial air traffic has shut down. But while Borschberg was not considered in any danger, in this case, the request was made to try to get the plane on the ground ASAP, and JFK air traffic controllers agreed.
So instead of a 21-hour flight, the D.C.-NY flight took 18 hour and 23 minutes. In all, Solar Impulse flew 3,511 miles, spending 105 hours and 41 minutes in the air since taking off from Moffett Airfield south of San Francisco on May 3. Along the way, Borschberg and Bertrand Piccard piloted alternating legs of the journey.
"Flying coast-to-coast has always been a mythical milestone full of challenges for aviation pioneers," Piccard said Saturday night in a statement. "During this journey, we had to find solutions for a lot of unforeseen situations, which obliged us to develop new skills and strategies. In doing so, we also pushed the boundaries of clean technologies and renewable energies to unprecedented levels."
Ultimately, Piccard and Borschberg hope to circumnavigate the globe in a new Solar Impulse craft, with a bigger, more comfortable cockpit. They had long been pointing at 2014 for that global attempt, but when the wing spar on the under-development HB-SIB was damaged in construction, they pushed the round-the-world flight to 2015 – and earlier this year the decision was made to bring the HB-SIA to the U.S.
The revolutionary carbon fiber solar airplane has 12,000 solar cells built into its wings that recharge a set of four 400-kilo lithium batteries housed in the engine pods during flight. The plane averages about 8 horsepower—similar to what the Wright Brothers managed when they first flew in 1903.