Summer is here! Vacations are planned, camping trips plotted, and dinner in the backyard is an everyday affair. Warmer weather brings everyone outside, but it only takes a few pesky bugs to send us running back to the safety of home.
To ward off mosquito bites, we can either slather ourselves in chemical-based repellents, light up stinky candles, or wear those "personal bug repellent devices" that are about as attractive as a cell phone holster. But don't fret, we've found what could be the answer to your pesky problem! A solar-powered bug zapper with no smells, no man-made chemicals, and no traps to clean-up or monitor. They call it: Mosquito Genie.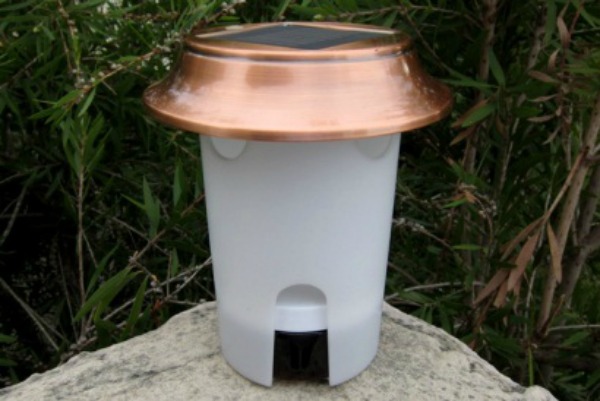 Here's how it works:
During the day, a tiny solar panel on top of the Mosquito Genie gathers energy to charge the LED lights hidden within. At night, the LEDs automatically turn on to attract mosquitoes. That's when things get interesting.
An organic chemistry container inside the lamp's based emits vapors that knock out the respiratory system of mosquitoes, gnats and no-see-ums. The pests apparently breath it in while hanging out near the light, start to feel sick, and fly off to an early demise.
The secret isn't man-made pesticides, synthetic chemicals or propane. Instead, the company claims to use "all natural organic ingredients that slowly decompose" and are safe for people, planet and pets. They even claim "the ingredients are so safe you can spread them on bread after the mosquitoes are dead" although it doesn't sound very appetizing.
Created by a team that has been recognized for excellence by The Museum of Modern Art in New York City, there's no denying that the Mosquito Genie employs a safe and efficient design. And the LEDs add a warm glow to your backyard or patio without wasting energy. No bugs and free power? Sounds like a win-win.