This could be a Solar Impulse trip to watch closely. Challenging weather conditions are forcing the sun-powered airplane, making a historic trip across the U.S., to shift its plans in a big way for the St. Louis to Washington, D.C., leg scheduled for Friday.
The first three legs of the trip – from Silicon Valley to Phoenix, then to Dallas, then to St. Louis – were each accomplished in one very long nonstop day of flying by one of the two pilots, Bertrand Piccard or André Borschberg, and that was the plan for the the trip to the nation's capital. But instead, the plane will make an overnight stop in Cincinnati for a change in pilots.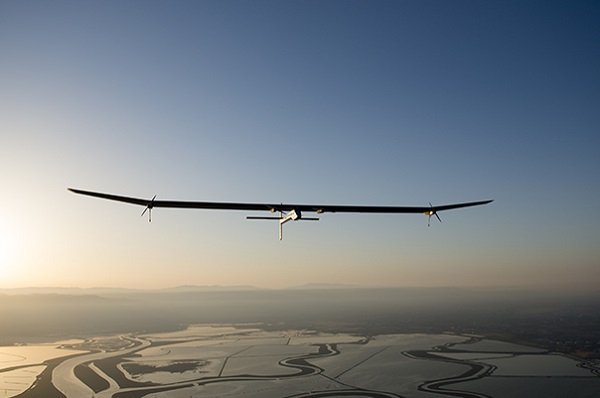 "The flight will be split in two because strong cross and head winds would slow the aircraft and make it impossible for the pilot to reach the nation's capital in one go in less than 24 hours, which is the limit set for the pilot in the cramped single-seater cockpit," the team said in a statement.
So if all goes as now planned, Borschberg will guide Solar Impulse from Lambert-St. Louis International Airport in the early morning hours Friday to Cincinnati Municipal Lunken Airport, where he is expected to land at about 9 p.m. local time. Then, after an overnight stop, Bertrand Piccard will pilot the second half of the leg. He's expected to fly through the day Saturday and land at Dulles International Airport after midnight, on Sunday.
"Among the challenges (the pilots) will encounter are strong cross winds that will make the aircraft drift sideways for much of the flight, heavy air traffic and crossing the Appalachian mountains, with peaks of up to 6562 ft. (2000 m)," the team said.
Progress can be watched in real time on the Solar Impulse website.
The willowy, 3,500-pound plane, with a 208-foot wingspan, is made of lightweight carbon fiber materials. It has 12,000 solar cells built into its wing which recharge a set of four 400-kilo lithium batteries. The plane averages about eight horsepower—similar to what the Wright Brothers managed when they first flew in 1903.
The Solar Impulse trip will end with a flight from D.C. to New York City, but not before a full series of events in the nation's capital. Those will include up-close public viewing of the plane on Sunday afternoon, and then a roundtable discussion and press conference on Monday, with U.S. Secretary of Energy Ernest Moniz slated to attend.