I love campy horror movies and 'The Blob' is one of the best (not the original but the 1988 redo with Kevin Dillon). No one wants to find themselves in the middle of a campy horror movie however, and if you were to visit the city of Graz, Austria, without being familiar with the unusual art museum that opened in 2003, you might be tempted to run for your life.
The biomorphous building designed by Peter Cook and Colin Fournier is known locally as the Friendly Alien, and it's not hard to see why. With a distinctly blob-like shape it seems to ooze and prickle in between the typical Austrian buildings that surround it. But don't worry, the Kunsthaus Graz Art Museum won't swallow you whole, it's too busy gobbling up the sun's rays and turning them into electricity.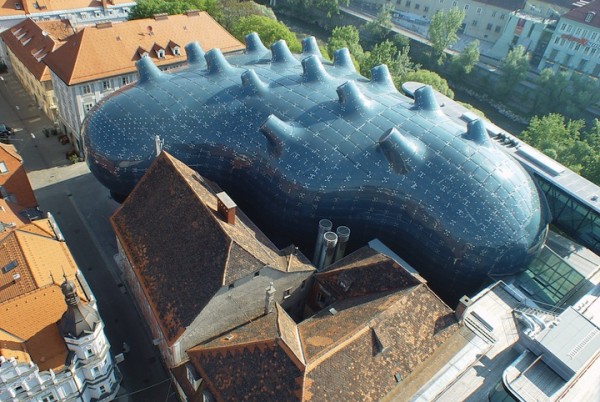 "In content as well as from an urbanistic point of view, the new Kunsthaus Graz acts as an interface between past and future," explains the museum's website. In no regard is this more obvious than when observing the structure's skin–a combination of organic roof, photovoltaic array and media façade which can be changed electronically.
The skin is actually constructed from 1,288 semitransparent acrylic glass panels. Embedded within are photovoltaic units that generate a large portion of the museum's energy needs, and  930 computer­con­ trolled light sources that enable the museum to communicate with its environment.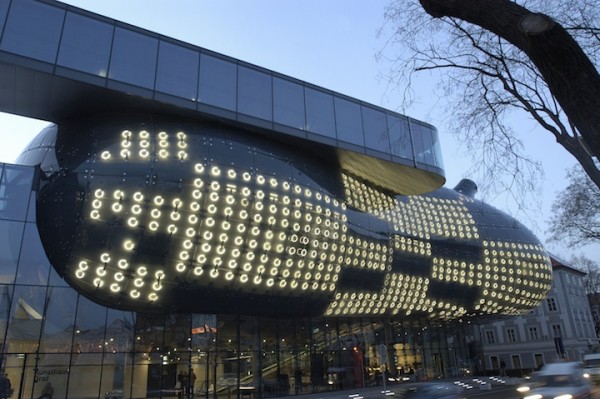 "Its appearance is highly memorable but it is a malleable one and will always retain an element of surprise: the outer appearance of its skin can, within limits, be changed electronically and its internal spaces constitute a "black box" of hidden tricks to be left in the hands of various curators," write the designers. "Each time one is sucked into the internal cavity of the Kunsthaus by the slow moving travelator reaching up to its belly, one will in effect be exposed to a different spatial and sensorial experience, to a different building."
Uh oh. Maybe it is "The Blob" after all!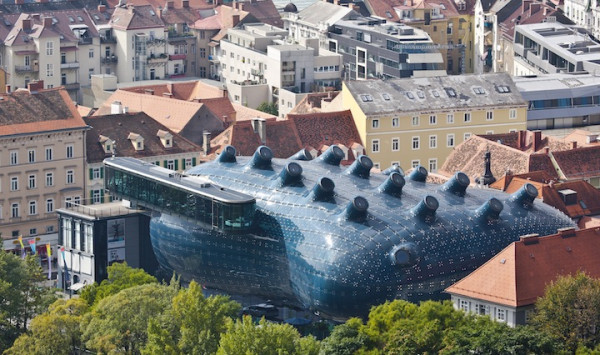 Photos by Eduardo Martinez, Nicolas Lackner, Christian Plach