The trade disputes that have roiled the global solar manufacturing sector took a wild turn on Monday with a New York Times report that the United States and the European Union were working hard toward negotiated settlements with China – the market-warping arch-villain in this drama – that would "essentially carve up the global solar panel market into a series of regional markets."
A result of these steps to manage solar competition would be higher prices for solar panels, which the Times suggests could dampen solar adoption and "prove unpopular among environmentalists."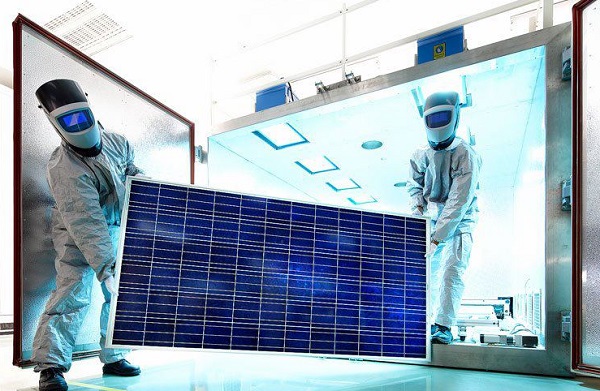 It's a reasonable point, particularly if panel prices rise substantially. But it's important to remember that the panel actually makes up a relatively small portion of the cost of a residential system – a National Renewable Energy Laboratory presentation [PDF] last year concluded that all the hardware for an average U.S. installation adds up to just 48 percent of the total system cost.
It's everything else, the so-called "soft costs" – a couple of dollars per watt of installed solar higher in the U.S. than in world-solar-leader Germany – that the U.S. Department of Energy has called "the greatest challenge to achieving cost-competitive solar by 2020."
In any case, the development comes with the EU poised to set import duties averaging 47 percent on Chinese products – and with the U.S. already applying duties around 30 percent. The U.S. action came after a lengthy process that split the U.S. solar industry, with manufacturers generally pushing to penalize the Chinese for unfair subsidies and selling their products at less than cost, and installers insisting such a move would slow solar adoption.
The leading U.S. industry group, the Solar Energy Industries Association, had avoided taking a firm position on either side, but late yesterday it issued a statement in support of a negotiated settlement, in line with a joint declaration out of Shanghai that the group was part of last week with the Asia PV Industry Association and others.
"After expressing our intentions to the White House, we are very encouraged that these long-needed negotiations appear ready to proceed," the SEIA vice president of trade and competitiveness, John Smirnow, said in yesterday's statement. "Simply put, it's time for everyone to work together toward a fair resolution of these cases."
China beginning around 2010 basically flooded the world with solar panels, driving the cost down 60 percent since the beginning of 2011. Consumers benefited, but the steep decline in prices and oversupply of panels has left the manufacturing sector in tatters – with even Chinese companies driven to bankruptcy.