Solar Impulse is at Dallas/Fort Worth International Airport today after the longest solar-powered flight in history, an approximately 936-mile journey from Phoenix that sounds like it was a bit of a roller-coaster ride.
Over Texas on the 18-hour, 32-minute second leg of the plane's cross-country adventure, pilot Andre Borschberg "rode the updraft and downdraft of the mountain winds" the Solar Impulse team reported. The plane, which departed Phoenix before dawn Wednesday, landed at DFW at 1:08 a.m. CDT.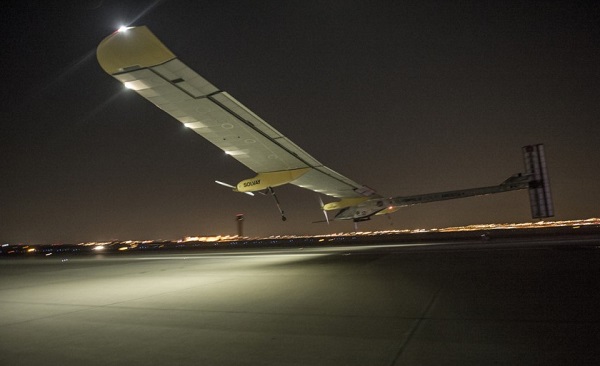 With a slow-moving craft (average ground speed on this leg: 52 mph) and always-busy skies, this was challenging but the experienced team seemed to take it all in stride:
The flight was a perfect training experience for both the pilot and the team in the Mission Control Center. It has reconfirmed the need to remain flexible and try to request, when possible, permission to fly at different altitudes to local Air Traffic Controllers. Having options can help avoid being stuck in a segment that's experiencing unique winds – but it's not always possible due to dense air traffic flying below the solar airplane.
The flight broke Solar Impulse's own record for flight distance, set last June when Borschberg piloted the plane nearly 700 miles from Payerne, Switzerland, to Madrid.
You folks in the Dallas-Fort Worth area will now have a chance to get a gander at the 3,500-pound plane with a 208-foot wingspan at open houses over the next few days. You can make reservations through Eventbrite.
After Dallas, Solar Impulse intends to head to St. Louis, then Washington, D.C., and then finishing up in New York City around the Fourth of July.
Ultimately, Borschberg and fellow pilot Betrand Piccard (he flew the first leg of this trip, and will take the next one, too) hope to circumnavigate the globe in a new Solar Impulse craft, with a bigger, more comfortable cockpit, based on the HB-SIA they are taking across North America after successful flights last year in Europe.
Here's a video of the Phoenix-Dallas trip and, yes, a cowboy hat will appear: