Framing its commitment as a hedge against possibly much higher conventional energy prices, Walmart this week reiterated its goal of running 100 percent on renewable energy by 2020. In part, that will require it to have at least 1,000 rooftop solar systems operating in the U.S., the company said.
"When I look at the future, energy costs may grow as much as twice as fast as our anticipated store and club growth," President and CEO Mike Duke said, according to a company release. "Finding cleaner and more affordable energy is important to our every day low cost business model and that makes it important to our customers' pocketbooks. Our leadership in this area is something our customers can feel good about because the result is a cleaner environment. And savings we can pass on to them."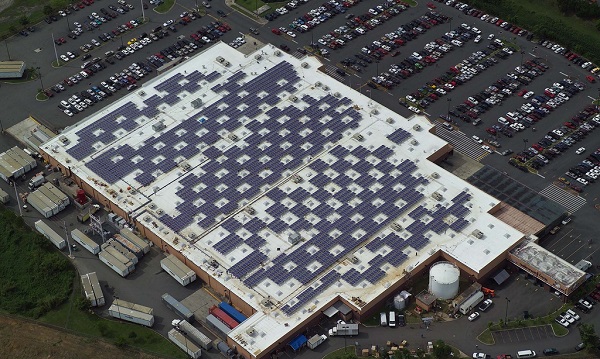 To reach its goal, the company said it will need more renewables and improved energy efficiency. The company said it intends to "drive the production of or procurement of 7 billion kilowatt-hours of renewable energy every year," and reduce the "energy intensity required to power Walmart's buidlings globally by 20 percent compared to 2010 levels."
Walmart said the increase in renewable energy sourcing would amount to a six-fold increase over 2010 levels, "equal to eliminating the need for roughly two U.S. fossil fuel power plants."
Walmart said its efforts will result in the greenhouse gas emissions from the company's largest GHC source — powering its buildings – to fall by 2020. "For the first time," Walmart said, "the company is projecting this GHG decrease even with significant anticipated growth in stores and sales."
Walmart is a well-established solar juggernaut – with more onsite solar than any other U.S. corporation (and it's even dabbled in wind). There will be much more PV, with the number of rooftop installations expected to rise from around 200 today to at least 1,000 by 2020.
On the efficiency front, Walmart said it will " increase LED usage in sales floor lighting, parking lots and other applications," and "focus on market-relevant scalable technologies, including high efficiency HVAC and refrigeration systems and sophisticated energy/building control systems."