Duke Energy has purchased a 21-megawatt California solar PV project from SolarWorld, and for buyer and seller the deal is a sign of the times – and perhaps things to come.
For Duke, it's about bringing more renewable energy into the mix when the returns justify it, which appears to be happening with greater frequency. Duke invested $500 million in renewable energy in 2012 and says it has pumped $2.5 billion into renewables since 2007. The purchase of SolarWorld's Highlander 1 and 2 – arrays in close proximity near the Joshua Tree National Park in Southern California that will be run as a single operation – brings Duke's solar capacity to more than 100 megawatts at 15 plants. Neither company divulged the terms of the deal.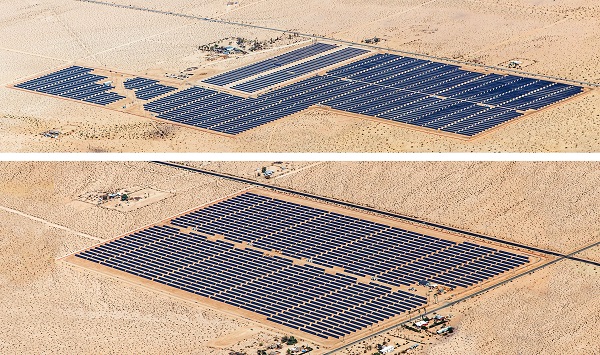 "Highlander will be the company's largest commercial solar farm in the nation," Duke Energy Renewables President Greg Wolf said in a statement. "It enlarges our footprint in a key U.S. renewables market while delivering affordable, zero-emission solar power to help the state's customers meet their renewable energy goals."
For SolarWorld, the deal demonstrates what appears to be an increasing emphasis on developing large, utility-scale projects, where companies such as First Solar and SunPower have dominated.
Like all solar manufacturers, SolarWorld has struggled in the past couple of years in an environment of overcapacity and falling module prices. (News reports have suggested the German company, which has a large, fully integrated manufacturing plant outside Portland, Ore., might be on the brink of collapse, but SolarWorld officials say that's a misreading of their proactive work to address debt issues.)
SolarWorld said Duke's purchase of Highlander 1 and 2, which SolarWorld developed from purchasing the land all the way through to building the project, "underscores our position as a premier developer of large-scale solar projects."
SolarWorld said the project puts to use 100,188 SolarWorld Sunmodule solar panels "manufactured in the company's Hillsboro, Ore., factory and mounted on SolarWorld's Suntrac single-axis trackers."
Southern California Edison will purchase the energy produced by the power plant, which is expected to begin operations in the next few months, under a 20-year deal.