SolarReserve is getting closer to delivering the first solar power tower with energy storage on U.S. soil.
The Santa Monica-based company said this week that it had completed assembly of the panels that, filled with molten salts, will receive and store energy beamed to the top of a 540-foot-tall tower by thousands of giant mirrors.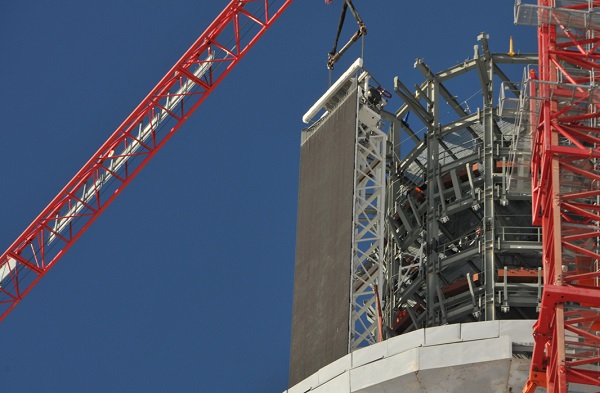 The plant, near Tonapah, Nev., is a couple of hundred miles north of where BrightSource Energy, NRG and Google are building the Ivanpah Solar Electric Generating Station. Ivanpah will have three power towers – but will simply heat water for immediate energy production.
It's the molten salt storage component at Crescent Dunes, similar to what's already functioning on a smaller scale in Spain, that will make the SolarReserve power station special. As the company explained:
The molten salt "receiver" is actually comprised of panels formed by hundreds of special alloy tubes which will be flowing with molten salt for energy absorption and storage. Once complete, the project will be capable of storing 10 hours of full load electricity production, enough to power 75,000 homes at peak electric demand periods, even after dark.
Concentrating solar power (also sometimes called solar thermal) has been challenged as a utility-scale power producer by the falling price of PV and increasingly storage is seen as the best way for it to remain a viable concept.
BrightSource is building Ivanpah without storage, but as GreenTech Media just reported, the company is "shifting its priorities, realizing that the value of concentrating solar power (CSP) cannot fully be captured in today's marketplace without energy storage capability." That's leading it to move to revise power purchase agreements to include storage on several planned projects.
As for Crescent Dunes, SolarReserve is promising it will produce its first electricity by the end of this year.