My home state of Oregon has 116 solar companies and 2,900 solar jobs. It ranks sixth in the nation in per capita solar jobs, has 6,755 homes powered by solar, gets an A grade in its net metering policy and a B grade on interconnection policy.
Remarkably, it took just a few seconds to uncover all this information, thanks to the new online, publicly available State Solar Jobs database unveiled today by the Solar Foundation that provides solar employment data for all 50 states and the District of Columbia.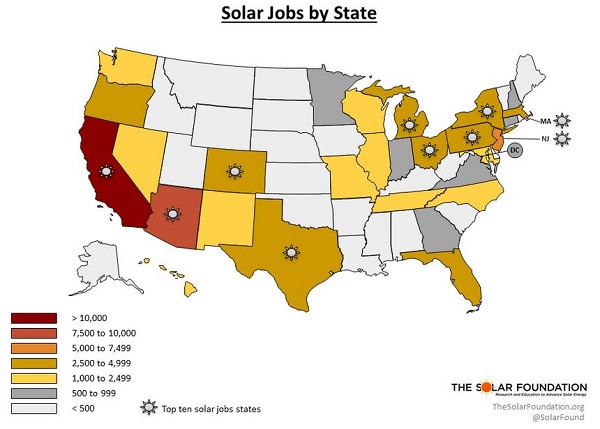 It's a resource for people interested in solar and it's evidence of the big impact the rapidly expanding deployment of solar power is having in the United States. It's also an argument for continuing to support solar, the industry said.
"The Solar Foundation's map illustrates that solar is an economic engine throughout the U.S., creating jobs from coast to coast," Rhone Resch, president and CEO of the Solar Energy Industries Association, said in a statement. "Solar is the fastest-growing clean energy technology available today and employment in our industry has doubled over the past three years. Strong state solar policies, including renewable portfolio standards, third-party financing availability, and net metering have driven this tremendous state growth. Ensuring policy certainty throughout the U.S. will help to accelerate this trend and lead to more job creation where it's most needed."
The data on the site comes from the Solar Foundation's National Solar Jobs Census 2012, which showed the U.S. has 119,000 solar jobs. The top 10 states for solar employment, in raw number of jobs, are California, Arizona, New Jersey, Massachusetts, Pennsylvania, Colorado, New York, Texas, Michigan, and Ohio. (And in case you were wondering, last place, at least in per capita solar jobs, is occupied by West Virginia.)
In addition to providing state-by-state data, the new Solar Foundation map offers graphical depictions of jobs by sector, and there some interesting distinctions are readily apparent. Among the top five states for solar jobs, for instance, California, New Jersey and Arizona are on the list with mostly installation jobs (and they are the three leading states for installed solar capacity). Meanwhile, Pennsylvania and Massachusetts are led by manufacturing jobs.
"In comparing our estimates with data from the Bureau of Labor Statistics, we find that California now has more solar workers than actors and that there are more solar jobs in Texas than there are ranchers," said Andrea Luecke, executive director of the Solar Foundation.
The Solar Foundation also noted these highlights from their data:
California "single-handedly accounts for nearly one-third of solar employment in the entire nation. The state has over four times as many jobs as Arizona, the No. 2 state."
Arizona saw a huge spike in solar jobs, from 4,786 in 2011 to 9,800 in 2012, on the strength of large utility-scale solar projects. "Though California installed more solar than Arizona overall, Arizona had far more utility installations, which often rely on industrial and residential construction workers," the foundation said.
Pennsylvania held its spot in the top 10, but it lost more than 2,000 jobs in the last year. The Solar Foundation said these "these struggles reflect deficiencies with the state's SREC market. Pennsylvania is one of two remaining states that allow out-of-state solar energy systems to sell into its market, causing an oversupply of SRECs."