When he became Interior Secretary in 2009, the United States had not a single utility-scale solar power project fully approved for construction on public lands. But as Ken Salazar now looks forward to leaving the Obama cabinet by the end of March, there are 19 solar plants authorized – in addition to seven wind farms and eight geothermal plants.
And while the U.S. is still waiting for offshore wind power, Salazar has pushed hard there, too, including on the long-stalled Cape Wind project on Nantucket Sound.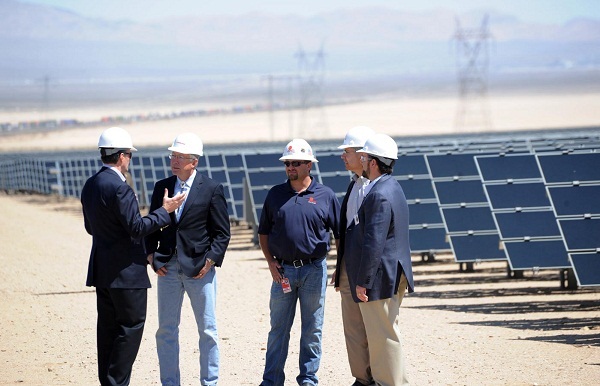 "Today, the largest solar energy projects in the world are under construction on America's public lands in the West, and we've issued the first leases for offshore wind in the Atlantic," Salazar said on Wednesday in announcing his plans to step down as secretary and head back to his home state of Colorado. "I am proud of the renewable energy revolution that we have launched."
Some environmental groups have criticized Salazar and the administration for putting fragile desert environments at risk with solar development, and birds and other wildlife at risk with wind development. But the large, mainstream organizations, like the Sierra Club and National Resources Defense Council, have largely supported Salazar's renewable energy push, often times enthusiastically, even if particular wind or solar projects have drawn protest.
On Capitol Hill, the 44-member House Sustainable Energy & Environment Coalition in December saluted Salazar's work on renewable energy development.
"This administration has accomplished more than any other by doubling renewable energy generation in four short years," the group said in a letter to Salazar. "The Department of the Interior has been integral to that accomplishment.  So far more than 10,000 megawatts of solar, wind, and geothermal have been permitted on public lands, exceeding a Congressionally-set target two years ahead of schedule.  It is because of the work and advocacy of your Department in establishing a robust policy framework that our nation advances closer to a renewable energy future."
This larger policy, of course, has been driven by the president, and there's no reason to think that whomever succeeds Salazar won't continue the renewable energy push. Programs put in place by Salazar – including a "solar zones" initiative that opens up 285,000 acres in 17 zones in six Western states for streamlined utility-scale solar development, and the "Smart from the Start" process for speeding offshore wind leases – could make the path a bit easier.