These winter days deliver about four fewer hours of daylight in California, as compared to high summer, but that's not stopping the state from setting peak solar power generation records.
The California Independent System Operator tweeted early Wednesday that solar output at 11:49 a.m. on New Year's Eve had set a new record of 1,122 megawatts. Just three hours later, @CaliforniaISO tweeted again:

What accounted for all this shattering of records? Ace Southern California renewable energy blogger Chris Clarke, who reported the Wednesday record just a few hours after it happened, explained the circumstances:
In addition to a record number of photovoltaic installations, the peak can be attributed to a clear blue sky across most of California, with cloud cover only in the mountains and extreme northeast corner of the state. The coasts and interior valleys, which host the majority of the state's solar installations, have no clouds to impede the sunshine.
Hard to say if this is a factor, but it's also true that photovoltaics work more efficiently in cool, sunny weather than in hot, sunny weather. First Solar says that its thin-film modules lose 10 percent of their output at very high temperatures, while traditional crystalline silicon PV fares even worse, with output falling off by 20 percent.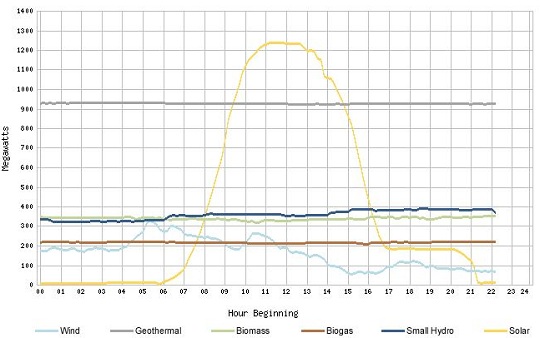 By the way, we're talking only about wholesale solar here. California also has more than 1 gigawatt of solar capacity behind meters – on the roofs of businesses and homes all over the state – that isn't included in the California ISO totals. As the advocacy group Vote Solar noted when the California grid operators announced last summer that solar peaked above 1 GW for the first time (on Aug. 14), "when you add the 1.2 GW and counting of customer-owned solar generation that serves onsite load, the total more than doubles."