Warren Buffett can't get enough of those renewables, and for a day at least the markets are following his lead.
The famed billionaire investor's MidAmerican Energy Holdings said on Wednesday it was buying a SunPower solar power development in California's Antelope Valley that when built will have a whopping 579 megawatts of generating capacity. The move sent solar stocks surging on Thursday.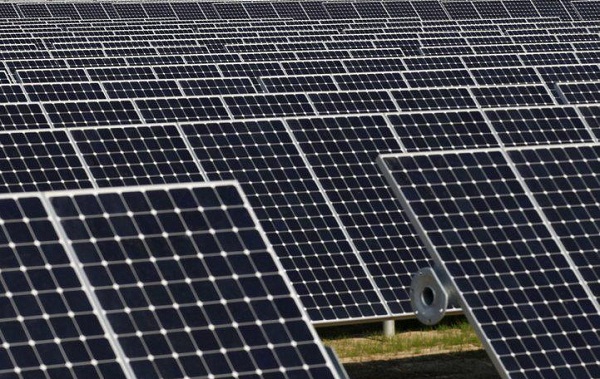 Bloomberg, citing a federal filing by SunPower, reported that MidAmerican will pay SunPower "$2 billion to $2.5 billion for the projects and a three-year contract to build them," and that "SunPower also will operate and maintain the projects under a multiyear agreement with MidAmerican."
Counted as a single entity, this is the "largest permitted solar photovoltaic power development in the world," MidAmerican said.
On Thursday, as Forbes noted, the deal set off a solar rally on stock markets; SunPower's stock was up around 40 percent in early-afternoon (EST) trading, and other manufacturer/developers were on board for the ride up.
The acquisition from SunPower doesn't change the hard details of the project itself – or "projects," as MidAmerican called the "co-located" development, consisting of Antelope Valley Solar Project 1, a 309-MW plant that will straddle the Kern-Los Angeles county line; and AVSP 2, a 270-MW plant that will be entirely in Kern County. According to MidAmerican, SunPower will do the development using its Oasis Power Plant, which consists of scalable 1.5-megawatt power blocks that employ the company's single-axis tracking panels. (It's the same thing being used at the NRG-owned California Valley Solar Ranch project in San Luis Obispo County.) Power is set to go to Southern California Edison under long-term agreements.
Construction will begin in first quarter of this year, MidAmerican said, with the plants expected to be complete by 2016.
MidAmerican, controlled by Buffett's Berkshire Hathaway conglomerate, has been gobbling up a lot of renewable energy in the past year or so. In October it bought two Southern California wind farm projects, part of the sprawling Alta Wind Energy Center, that total 300 MW in generating capacity. In February, it completed the purchase of the under-construction 550-MW Topaz Solar Farm project from First Solar. In December 2011, it bought a 49 percent stake in NRG's Agua Caliente Solar Project, in Arizona, which now ranks as the largest operating PV plant in the world. The company has also developed several wind farms in Iowa.
"MidAmerican Renewables, a subsidiary of MidAmerican Energy Holdings Company, has a total portfolio of more than 1,830 megawatts of owned assets, including wind, geothermal, solar and hydro assets," said Bill Fehrman, president of MidAmerican Renewables, said in a statement. "We are excited about these projects because they support our core business principle of environmental respect. We are very proud to add SunPower technology to our portfolio of projects."