Startup Alta Devices promised "new and unique solar applications" with its gallium arsenide thin-film solar cells when it began promoting its technology last year, and it looks like the military might be one of the first beneficiaries of the company's work.
Alta Devices this past week showed off designs for what it called "the world's lightest, and highest energy density, flexible military charging mats."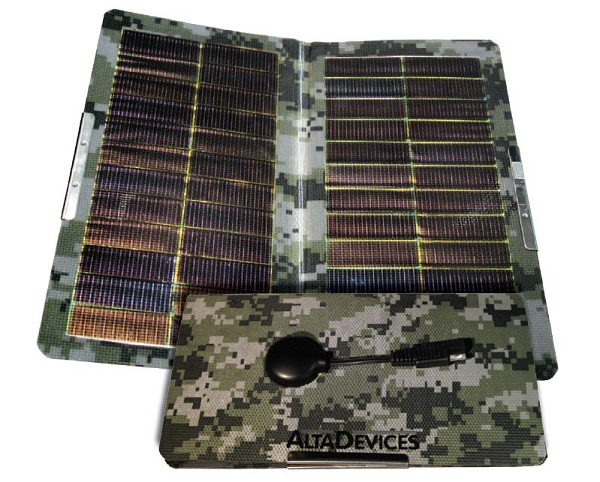 The company said this new design is part of a big focus on mobile power – the same technology could be put to use in things like drones, gadgets, cars and remote industrial applications, it said.
This is a framing of the company that we began to see last year, as Alta Devices shifted from emphasizing its ability to deliver cheaper solar power to being able to deliver solar power "that can be used differently" than competing products. It's a direction that makes sense in a world of plentiful natural gas and ever-cheaper crystalline silicon PV.
"We have come to rely on mobile machines and devices that always need a source of power whether it be the grid, batteries, or fuel," Chris Norris, president and CEO of Alta Devices, said in a statement. "But in the next decade, we will come to expect mobile power that is transparently available at all times."
The green military space is certainly humming these days, with the Obama administration pushing initiatives on a number of fronts. Some have been controversial, like the investment in biofuels, which by substituting clean transportation fuels for dirty could yield long-term benefits but doesn't directly aid combat readiness.
There's nothing not to like about lightening a soldier's load, however, and that's what Alta Devices says it can do with a 10-watt mat that weighs 4 ounces and unfolds to just 10 inches by 11 inches in size:
Alta's new military charger designs give a picture of how that world may look: according to the Army Research Laboratory, a soldier's load can weigh 100 pounds, over a third of which are batteries. Alta's technology can reduce that battery weight by 70 percent, saving approximately 25 pounds of pack weight. This reduction allows troops to stay nimble and extend their mission without the need to be resupplied.
What could make Alta Devices a particularly strong player in this market – where it isn't the only player – is the efficiency of its thin-film panels: Alta Devices holds world records for both cell and module single junction conversion efficiency.
Traditional cells are made from silicon, a semiconductor abundant in Earth's crust, but gallium arsenide has properties that allow higher electron mobility. It is currently used on orbiting satellites and space exploration vehicles in NASA's Mars Exploration Rover Mission. Gallium arsenide "absorbs photons 10,000 times more strongly than silicon for a given thickness but is not 10,000 times more expensive," according to co-founder Eli Yablonovitch, director of the NSF Center for Energy Efficient Electronics Science at Berkeley. The challenge in using gallium arsenide is that the stuff is expensive, but Alta Devices says that by growing extremely thin layers of GaSa, it needs to use incredibly small amounts, trimming costs.
Alta Devices says that the 10-watt mat it has designed for military use can produce up to 60 watt-hours per day in "strong solar climates," enough power such that "a typical dismounted solder can be fully self powered" from 20 to 30 watts of chargers, which also come in a 20-watt size.