Finally got around to opening a lingering email in my Inbox, dated Nov. 29, from the Solar Energy Industries Association. It had the subject line "A Call to Defend Solar's Progress," and what a strange surprise this email turned out to deliver.
The email said that SEIA, the preeminent solar lobbying group in the country, was dropping its membership in the notorious group ALEC, the American Legislative Exchange Council – which was a shocker because what on earth was the SEIA doing aligned with such a retrograde outfit anyway?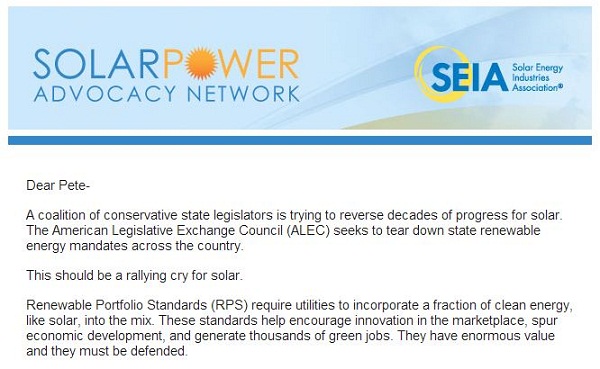 ALEC has been around for years as an alliance between private industry and conservative state legislators, writing model pro-business legislation aimed at state governments around the country. The group has enjoyed the support of fossil-fuel interests like Koch Industries and Exxon Mobil, which you'd think would have given the SEIA pause from the beginning, but ALEC also had seemingly less noxious members, such as Coca-Cola, UPS and eBay, who while perhaps not out to gut environmental regulations must have liked what they saw in ALEC's anti-union and pro-privatization agenda.
SEIA said it joined ALEC "to promote bipartisan energy policies that would help all Americans." Probably it liked ALEC's suggestions for making it easier to build power plants, never mind that ALEC by early this year had been exposed as a standard-bearer for a far-right agenda that went way beyond business regulation to include stuff like "stand your ground" gun laws and voter ID legislation that civil rights groups find appalling.
In fact, back in April, Coca-Cola, as well as Pepsico, under pressure, stopped funding ALEC — and many others companies have followed suit — but apparently none of that concerned the SEIA.
What finally moved the solar group to break its ties? It was ALEC's fight against renewable portfolio standards, exposed recently by the Washington Post. Oops.
Because there isn't an RPS at the federal level, these state laws requiring power utilities obtain a minimum – and growing – amount of their energy from renewable sources are a key tool in driving the adoption of solar power (and wind, too).
"We joined ALEC earlier this year to promote bipartisan energy policies that would help all Americans," the SEIA's Carrie Hitt wrote to the group's email list. "However, they've adopted a stance that intends to take us backwards. The fact is, Americans overwhelmingly support the growth of the solar energy industry and ALEC is clearly out of touch with the way Americans feel."
It could be argued that it was pretty obvious a long time ago that ALEC was clearly out of touch with the way Americans feel, but, hey, better late than never, I suppose, SEIA.