Capping a 13-month process, the U.S. International Trade Commission voted 6-0 on Wednesday that below-cost and subsidized Chinese solar products have been harming the American industry, a move that will lock in place duties of up to 36 percent on many crystalline silicon photovoltaic imports from China.
The ruling, coming a month after the Commerce Department finalized the duty amounts, was a victory for the U.S. unit of SolarWorld, a German company with a large manufacturing plant in Oregon, and for the group of beleaguered manufacturers it led in the fight for sanctions.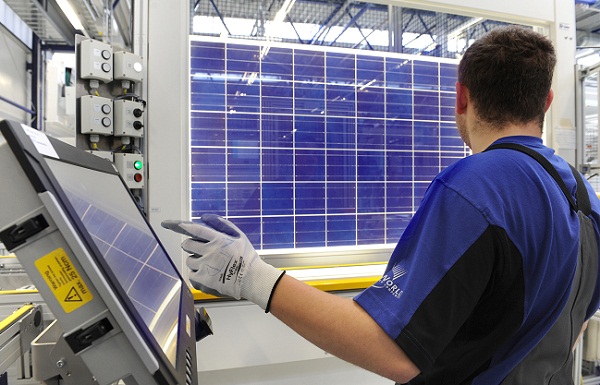 However, in a second vote on whether to apply the duties retroactively to very early in the investigation, the commission said no, by a 4-2 vote.
Nevertheless, Gordon Brinser, president of SolarWorld Industries America and head of the Coalition of American Solar Manufacturing, said the ITC ruling confirmed that "Chinese manufacturers, with the enthusiastic support of the Chinese government, have attempted to game the international trading system in order to gain a virtual monopoly on solar cells and modules sales in the U.S. market."
But not all of the U.S. solar industries favored punitive action to try stem the tide of Chinese imports – developers and installers have argued vociferously that duties could snuff out solar's growth and spark a trade war. On that last point, they might have a decent case.
In the months after the SolarWorld complaint arrived, China launched a probe of the U.S. polysilicon industry, which sells copious amounts of that key solar cell input to Chinese manufacturers. Then this past summer, the Eurpoean Union launched an antidumping investigation into solar panels and their key components originating in China.
China answered back in the past week, saying it would launch antidumping and countervailing investigations on solar-grade polysilicon that's sold into the country from the EU, and alleging through the World Trade Organization that the European Union and member states – Italy and Greece in particular – gave added and illegal subsidies to solar PV projects that used EU-produced materials.
How consequential these back-and-forth actions will be remains to be seen – as does the impact of the U.S. duties on the solar market. That's in part because there's a bit of a loophole in the duties – panels assembled and shipped from China from solar cells made outside the country aren't subject to the trade penalties.
The group leading the opposition to the duties, the Coalition for Affordable Solar Energy, took solace in that fact, and in the victory on making the duties retroactive.
"Fortunately, the scope of the decision is unchanged and is limited to solar cells produced in China, thereby minimizing harm to the U.S. solar industry," CASE President Jigar Shah said in the first of two statements put out after today's ITC votes. Later, Shah added: "We are pleased that the ITC has determined that there were no critical circumstances, and thus no reason to apply the tariffs retroactively. This means that tariffs will not apply to modules made with Chinese cells that were imported into the U.S. during the period of the investigation…. (T)hose adversely affected by retroactivity would have been small- and medium-sized U.S. solar businesses that functioned as direct importers and were caught in the middle of SolarWorld's protectionist case."