UC Riverside is ready to rock and roll – literally; it can easily roll out the power and plug in the amps – to the tune of clean energy.
That's because a senior project undertaken last spring by four engineering students, and then picked up this fall by a new quartet, has resulted in an 18-foot trailer with six solar panels, a wind turbine and eight rechargeable batteries, each "seveal times larger than a car battery," according to the university.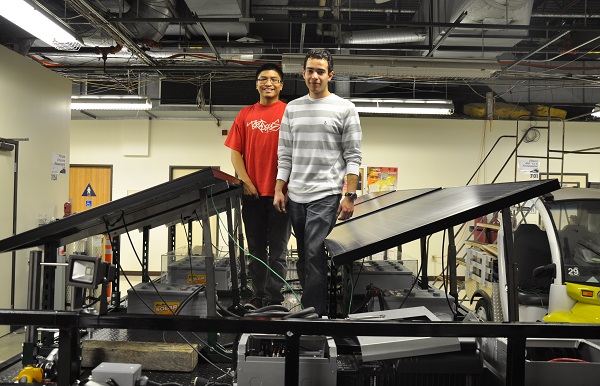 The system will be shown off this weekend at ceremonies marking the opening of the UCR Community Garden.
Where'd the money come from to built it? Some Solyndra-like sweetheart government deal? Nah. Students paid for it. Back in 2010, Riverside students voted themselves a fee to fund sustainability projects on campus, and $34,000 of that Green Campus Action Plan helped finance the power on wheels.
Sure, you could buy a similar system. In fact, we recently told the story of a mobile setup from SolaRover that came to the rescue in the Sandy-hit Rockaway's, in New York. According to the company's website, a 2 kilowatt array on a trailer, with a 10 kilowatt-hour battery, runs $26,500, before any tax or shipping costs.
The UC Riverside system costs a little more, but it also delivers more: Its panels (and the wind turbine, which SolaRover system doesn't have) can deliver up to 6 kilowatts of power, the university said. With its charge controller for feeding the batteries and an inverter to convert the DC to AC, you can plug anything that needs juice into its standard outlets.
Plus, the students' system is easier to modified than a system off the shelf: "different solar panels, inverters and batteries can be swapped in and out in the student designed system for efficiency testing and evaluation of newer products," the university said.
Anyway, this project was as much about the journey as the destination, and it's pretty clear the students involved got a lot out of it.
"This really takes what we learn in class and allows us to apply it," Luis Duarte said, while J.P. Rebong offered that, "Often times we learn about things first by working on this project. That's always cool to go into the classroom already having the knowledge."