A giant solar-powered flying saucer is due to land in New York's Freshkills Park. All right, we may be inflating this just a bit — the structure only looks like a flying saucer, and there's no guarantee that it will actually wind up occupying the east side of the park planned for New York City's capped landfill (though that is the location it was designed for). But Mayor Michael Bloomberg has put it out there that he'd like to see some solar at Freshkills. So we can dream a little, can't we?
Freshkills Park is, in and of itself, little more than a dream right now. Envisioned as encompassing 2,200 acres — an area almost three times the size of Central Park — the transformation of what was formerly the world's largest landfill into a "productive and beautiful cultural destination" is slated to occur over the next 30 years. Bloomberg and other NYC officials see the park's design, ecological restoration and cultural and educational programming as emphasizing environmental sustainability and "a renewed public concern for our human impact on the earth."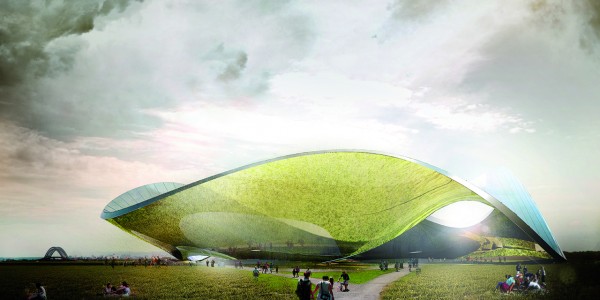 How those plans play out amid the backdrop of the destruction wrought on Freshkills by Hurricane Sandy remains to be seen. But the designers of Solar Loop, Paolo Venturella & MenoMenoPiu Architects, see their structure as a landmark that will organize park life inside and outside.
The structure (which comes to us via eVolo) is built around a shape derived directly from the solar diagrams of the site. It is composed of two different surfaces that twist into each other: a photovoltaic surface that is always exposed to the sun, the second a mirrored surface that reflects light from the surrounding environment (while also looking pretty cool). The shape of the structure allows it to follow the arc of the sun at at its best angle over the course of the day, somewhat like a sunflower.
The designers see the shape of the Solar Loop as the salient point of the design, rather than its dimension. Blown up large, it could be an arena — on a smaller scale, a pavilion. Either way, we'd imagine, if it's going to get built at this point, it will have to demonstrate its hurricane-worthiness, as well as its solar potential.