Editor's Note: EarthTechling is proud to repost this article courtesy of Natural Resources Defense Council. Author credit goes to Amrita Batra.
Recently one of India's leading solar energy developers, Mahindra Solar One announced plans to move forward with a 50 megawatt solar plant in Rajasthan, India.  Funded in part by the U.S. Export Import Bank, the project is yet another example of how U.S. and Indian entities are working together to drive solar energy development in India, as discussed in NRDC and CEEW's recent report on India's National Solar Mission. While it's no longer uncommon for headlines to be dominated by India's nascent, yet growing solar energy market supplying energy to its burgeoning cities, some of the industry's earliest and brightest sparks are being seen in parts of the country that have remained quite literally, off the grid. Yet, this early progress points toward both, the immense potential of the market and the need for continued efforts to provide clean, reliable energy to rural India.
India's Western-most state Gujarat, is one of the leading states for solar power supply to both villages and cities. Earlier this year Gujarat became the country's first state to generate solar energy for villages through panels mounted on a body of water.  Solar panels over a half a mile stretch of the Narmada Canal now generate 1 MW of power distributed through nearby villages.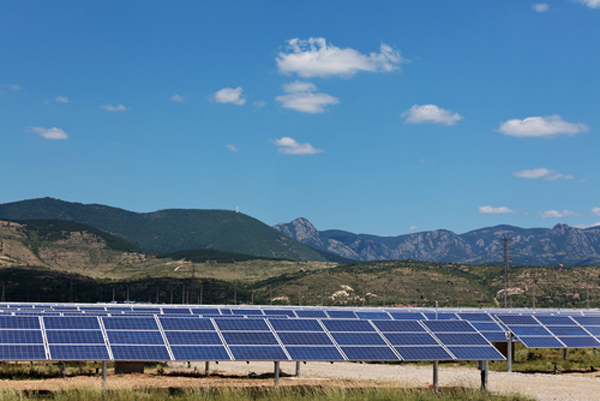 At the helm of the Narmada Canal's solar project is SunEdison, which a few weeks ago launched a much broader plan for rural electrification in India through its Eradication of Darkness Program.  In 2011, as its pilot project for the case of rural electrification,SunEdison installed a 14 KW solar energy plant in the remote village of Meerwada inMadhya Pradesh, India's central-most state. Today, the plant delivers electricity to a village of 400 residents who never had it, whether it be from conventional or unconventional sources.  Building upon the Meerwada project's success, SunEdison has identified 29 additional villages in the same district to receive solar-powered electricity and is now working to raise public and private funding to implement the plan.
Approximately 1000 miles directly north of Madhya Pradesh, in the state of Jammu and Kashmir, two solar power plants were recently inaugurated by the state's Chief Minister Omar Abdullah, and his father Farooq Abdullah, who once also served as the state's Chief Minister and today, is India's Minister for New and Renewable Energy.  The Ministry for New and Renewable Energy (MNRE) has approved the development of 67 additional solar plants in Jammu and Kashmir, all of which will serve as back up electrical sources for as many hospitals across the state.  Moreover, since 2009, MNRE has sanctioned over 50,000 solar home systems to reach 225 previously un-electrified villages in the state.
In Odhisha, situated along the Bay of Bengal, the state's Renewable Energy Development Agency (OREDA) is working towards the solar electrification of over 3000 villages by 2014. In 2010, the year of the Solar Mission's launch, over 40 percent of Odhisha's villages were yet to be electrified. Under the Remote Village Electrification Programme (RVEP), OREDA has identified 3000 villages to receive electricity through solar energy sources, all of which were identified as "not feasible or cost effective" to be electrified via conventional grid extension. Since then, solar energy – through solar LED lamps, home lighting systems, solar water heaters and solar home electrification systems – has provided electricity to hundreds of villages in Orissa.  In what might appear as somewhat of a reverse development model, these efforts might have also helped the state prepare a 'master plan' for its capital, Bhubhaneshwar to become the state's first 'Solar City.' As I'm writing this blog, the city's municipal corporation is awaiting its completed 'master plan' to begin identifying and tapping sources of solar energy to power the city.
In Uttar Pradesh, which touches the nation's capital New Delhi, the state's New and Renewable Energy Development authorities have sanctioned funding to install over 250 solar street lights to illuminate 35 villages across the state. Similar to the villages in Odhisha, and countless others across India, this electrification is not an example of switching from conventional to renewable sources of energy, but rather the first time these villages will be lit.
And yet, hundreds of millions of Indians are still waiting for their turn. An estimated 400 million people in India, more than the total U.S. population, have no access to reliable energy, and over 90 percent of these 400 million live in rural India. At Solar Mission's launch in 2010, Prime Minister Singh highlighted solar energy's potential to not only electrify rural India, but provide "significant multipliers" to transform rural economies. Whether on or off grid, the sustainable growth of India's solar ecosystem relies on continued, repeated and expansive efforts to enhance each aspect of the industry, i.e. commissioning projects, increasing their bankability, developing a manufacturing base, and creating an enabling environment. Such efforts promise to provide the solar energy market with not only a foundation to continue growing, but shoulders to carry India to its next development milepost. And for the hundreds of millions waiting in the wings – a long overdue opportunity to turn on the lights.