SunEdison has announced a plan to install distributed-generation solar energy plants in rural India, a move the company says will help bring power to communities that have never had electricity before.
The rural electrification program, called "Eradication of Darkness," will benefit the estimate 400,000 Indians who currently live off the grid.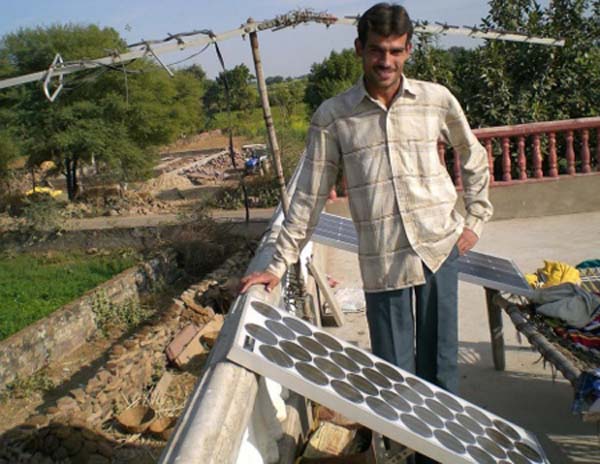 According to SunEdison, they plan to design, install and manage the power plants. The company has already identified 29 villages in the Guna District that it once to electrify and it said it was looking for "appropriate financial and other partners" to help make this happen. The company expects the project to be funded through a mix of government grants and money from investors and corporations.
"This program is making electricity accessible to citizens in India who have never dreamt of having it in their homes or workplaces," Ahmad Chatila, President and Chief Executive Officer of MEMC, the parent company of SunEdison, said in a statement. "We are excited to be the catalyst for this kind of remarkable transformation."
The United Nations estimates that one in five of the world's population currently live without electricity. As well as the obvious drawbacks of life off the grid, a lack of access to electricity limits education, economic development and makes populations more vulnerable to sickness and famine, SunEdison said.
The U.N. has already made electrification of the third world a major priority and earlier this year U.N. Secretary-General Ban Ki-moon traveled to the World Future Energy Summit in Abu Dhabi to declare 2012 the "International Year of Sustainable Energy for All."
However, the program of grid connectedness is not just a question for developing nations. Even as the U.N. initiative was being launched solar non-profits were drawing attention to the plight of 18,000 families who live on reservations in the Navajo Nation, where about 38 percent of households lack electricity, and over 50 percent of Navajo live below the poverty line.
SunEdison has already undertaken a number of projects in India, helping to bring online over 50 megawatts (MW) of interconnected solar electricity in the country.
Its projects include small rooftop installations to South Asia's largest solar field in Gujarat and, in the same state, a 1 MW project suspended over the Narmada Canal. This latter project company claims is conserving drinking water at the same time as producing clean energy.
The company also recently completed installing a 14-kilowatt solar energy plant in Meerwada, India that supplies power to 400 villagers.
Before this project was implemented residents walked three kilometers for drinking water, and kerosene lamps were the only source of lighting. SunEdison said its staff were on location with residents for several weeks seeking out the best site for the power plant, and setting up a village council to maintain and protect the system from vandalism or theft.
In a statement Pashupathy Gopalan, managing director of SunEdison's South Asia and Sub-Saharan operations said: "We have worked very hard to understand their needs and provide education about the possibilities of electricity. We believe education is one of the most important aspects to ensuring the project's success."