One of the companies that joined SolarWorld in its fight against Chinese solar manufacturers is in dire straits, if not already deceased.
MX Solar USA, the New Jersey-based division of Italy-based MX Group, stopped making panels in May, a company representative told the Bergen Record. "We had to cease production because we were so drastically affected by the Chinese dumping of solar panels," the company's director of business development said. "We can't make them for what they are being sold for."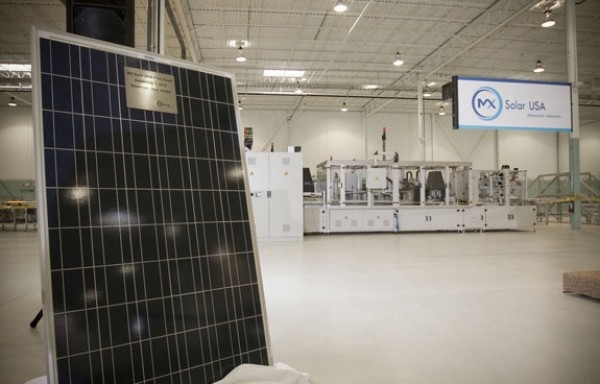 SolarWorld USA, itself a division of a Germany-based corporation, was initially the only publicly named company among seven that joined together last October to charge that Chinese crystalline silicon solar cell and panel companies were dumping their products in the United States below cost and benefitting from illegal government subsidies. MX Solar USA came out of the closet as part of the complaint in March this year.
The company had officially opened its New Jersey plant for production on December 7, 2010, after an investment of $14.5 million. It expected to produce 65 megawatts of solar panels a year and employ 120 people by March 2011 and 190 by the end of 2011 [PDF]. The Bergen Record report, however, said that employment peaked at 120 last year, and 100 employees had since been laid off, many in March this year.
Documents [PDF] from the New Jersey Economic Development Agency suggest the company received financing under the state's Clean Energy Manufacturing Fund totaling $3.3 million. It appears that $300,000 was a grant. The additional $3 million apparently came as a 10-year, 2 percent interest loan under which repayments were to start at the beginning of the company's fourth year. Whether the Italy-based parent would be responsible for that loan is not known.
In hindsight, the timing on the opening of the Somerset, N.J., plant could not have been worse, as 2011 saw Chinese solar products surge into the United States. Meanwhile, solar installations continued to grow in the United States and around the world, but with subsidies beginning to moderate in economically strapped Europe, they couldn't keep pace with exploding manufacturing capacity.
The result has been plummeting prices and carnage in the industry, and not just in the United States. In April, Q-Cells became the fourth solar company in PV-powerhouse Germany to file for bankruptcy this year, joining  Solar Millennium, Solon and Solarhybrid.
It might be of little consolation to MX Solar USA, but the trade action against the Chinese solar industry did score a victory. In May, two months after slapping puny preliminary countervailing duties on imports from China, the U.S. Commerce Department announced hefty anti-dumping duties of around 31 percent on China's largest solar companies, including Trina andSuntech, and up to nearly 250 percent on other manufacturers.