Around Finland's capital city, rocks jutting up out of the earth at odd angles are not an uncommon sight. It seems fitting, then, that a proposal for Helsinki's new central library (which comes to us via eVolo) replicates the shape of those rocks, appearing not so much placed on the earth as emerging from it. As an added bonus, the angle at which the building rests creates a sloped roof, connecting it with the surrounding environment.
The building — a master's thesis developed by Sonny Holmberg and Luke Lorimer at Aalborg University in Denmark — was designed to make use of a double skin facade as part of an advanced hybrid ventilation system. This double skin facade keeps the building as transparent as possible, rendering the space within the building open, airy and bright, without sacrificing energy performance. The sloped roof faces south and, in addition to its attractive greenery, features 500 square meters  (around 1,600 square feet) of solar cells that help to keep the building's need for grid-fired electricity to a minimum.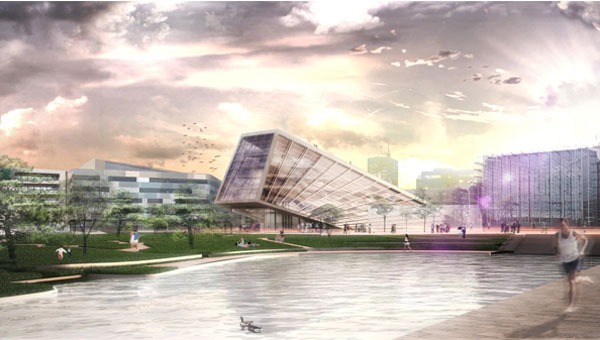 Yet another innovative feature: instead of having a traditional atrium, the floor plan of this building makes use of an inverted atrium, keeping the floor plans offset from the facades. This was intended to create the feeling of one big, connected open space, with natural daylight filtering down into the basement through the various floors above.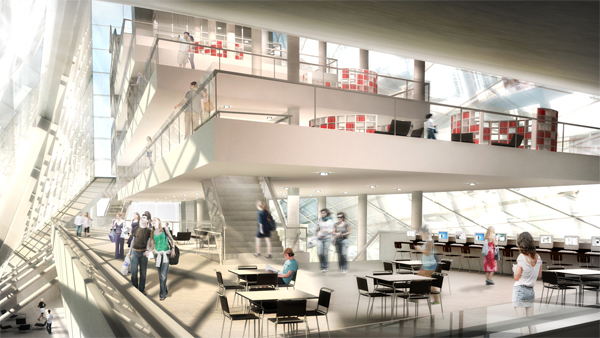 We like this design not just because it tackles the question of how to create a building with a whole lot of glass that still performs in a far-North climate, but also because (despite its size) it's a design on the human scale, via its walk-up, park-like roof. Still, we wonder — would the angle of this building's green roof be conducive to a (midnight) summer picnic? Or would your picnic basket tumble down roof's the incline?