The Obama administration's push for big renewable energy projects is making its way into Indian Country. The Department of the Interior on Thursday approved a 350-megawatt solar project sought by the Moapa Band of Paiute Indians in Clark County, Nevada.
It's the 31st utility-scale renewable energy project approved by the department – there had been none before the Obama administration – but the first ever on Indian land.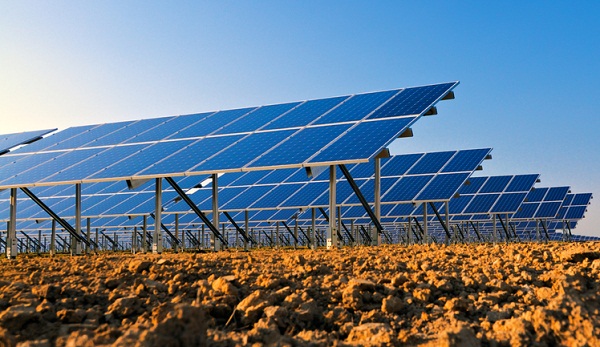 "This trailblazing project is part of the president's commitment to help build strong, sustainable tribal communities by supporting safe and responsible renewable energy development," Interior Secretary Ken Salazar said in a statement. "Tribal lands hold great renewable energy potential, and smart development of these resources has the power to strengthen tribal economies, create jobs and generate clean electricity for communities across Indian Country."
K Road Power intends to build the Moapa Solar project in three stages, each consisting of 100-150 megawatts (MW) of PV. The plant itself will go on 2,000 acres of leased tribal lands — about 3 percent of the tribe's trust lands — while 12 acres of U.S. public land, overseen by the Bureau of Land Management, will be needed for the larger of two new transmission lines.
The government touted benefits to the tribe: lease income, jobs and a connect to the grid for the tribe's Moapa Travel Plaza, "decreasing its dependence on a diesel-powered generator." In launching the bid for the plant more than a year ago, William Anderson, the chairman of the Moapa Band's Business Council, has said the project was "the type of thing that will demonstrate and prove we care about our land, our animals, our plants, our people."
The administration has now signed off on 17 solar projects, six wind farms and eight geothermal plants on public lands. If they all come to fruition, they will generate 7,200 MW of power, enough to supply nearly 2.5 million homes.
The first project to gain approval – the 50-MW Enbridge Silver State North solar installation, also in Clark County, about 40 miles south of Vegas – went online in May.