While the world's attention has moved on to various other disasters since Hurricane Katrina hit the Gulf Coast in 2005, the recovery effort in New Orleans continues, and with rebuilding comes the opportunity to establish green infrastructure. We've covered a number of renewable energy installations in Lousiana over the last few years, and recently caught wind of an extensive solar installation that has gone in across six housing projects.
MAGE Solar reports that over 3,300 of its Powertec Plus US modules are now supplying 1.4 gigawatt-hours of renewable energy per year to six housing projects that were part of the state of Lousiana's revitalization plan. Among the projects was New Orleans' iconic American Can and Blue Plate buildings, the latter of which is listed on the National Register of Historic Places. In addition, some 564 kilowatts of solar capacity — out of a total of 1.05 megawatts — went in and the River Garden Apartments and Bonne Terre Apartments in Houma, spread out over 69 rooftops and 26 parking canopies.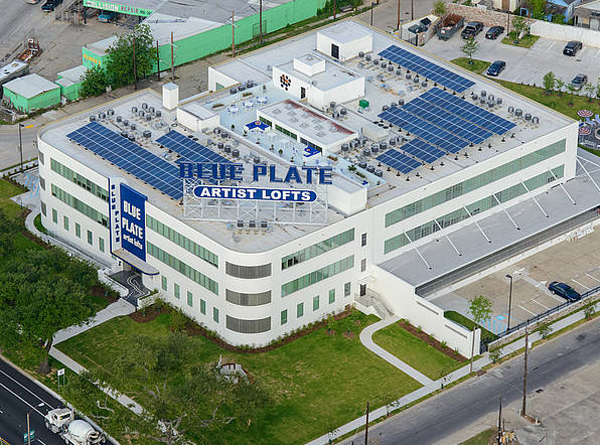 The project was designed, engineered and executed by Pontchartrain Mechanical (PM) of New Orleans, one of the largest mechanical contractors in the Gulf coast region, and developed by HRI Properties. MAGE Solar worked closely with PM's chief system designer and solar department manager to develop custom solutions for each of the individual installations included in the project, taking into account both historical building design constraints and possible losses due to shading from trees, light poles or buildings.
Funding for the project was made possible through the 2009 Recovery Act and the EmPower Louisiana initiative, which is administered by the Louisiana Department of Natural Resources. Net metering arrangements for each of the installations have been made with the local electric utilities.
Joe Thomas, CEO and president of MAGE Solar USA, said, in a statement, "To see the vision of both partners to create sustainable, vibrant metro communities executed so perfectly and with such craftsmanship will attract not only many happy residents but also inspire others to follow their pioneering example." He went on to note that both the systems' owner and tenants will enjoy the benefits of low operating costs/utility bills for the next three decades courtesy of MAGE's solar modules.