Known for brilliantly saving lives on Grey's Anatomy, actor and race car driver Patrick Dempsey just became a little dreamier with his efforts to save the environment. Dempsey, as part of Dempsey Racing, will work in collaboration with Trina Solar to promote education and awareness around solar energy, and to bring affordable, clean energy to communities around the U.S.
Both Trina Solar and Dempsey already have a history for working together to promoting solar energy. Wearing his environmentalist and race car driver hat, Dempsey—as part of the Dempsey Racing team—partnered with Trina Solar to provide a solar panel system to North Carolina's "Victory Junction" which gives children with chronic illnesses a memorable, summer camp experience.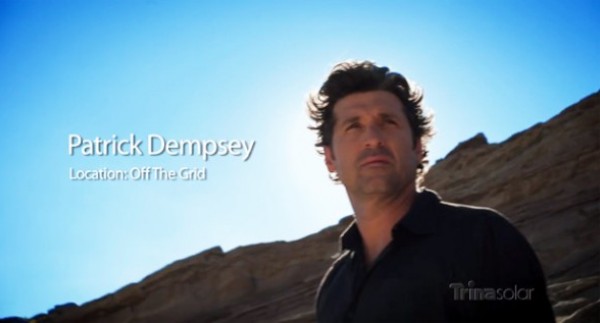 Continuing these efforts, Trina Solar will lend their expertise with solar photovoltaics as they donate solar modules to schools, health clinics, and NGOs and build the necessary infrastructure and local partnerships to install and maintain the installations.
The campaign will also focus on raising awareness of solar solutions—expanding upon Dempsey's 2011 video, "Plug me in, Light me up," which shows how solar can help us and our environment. Dempsey will provide his expertise, passion, and winning smile to support the campaign through live appearances, social and digital media, and other communications tools. Start following now for some inspiring tweets.
Trina Solar's other noteworthy projects include putting solar on Habitat for Humanity homes in Texas, and working outside the U.S. to provide solar power at a medical clinic in Tanzania and as part of the Haiti rebuilding efforts. The company is also a target ofa coalition of U.S. manufacturers of crystalline silicon photovoltaic cells, who have accused the Chinese government and solar companies of illegal trade practices. Last month the U.S. Commerce Department, in a preliminary ruling, ordered duties of 4.73 percent on imports of Trina solar cells from China, with more extensive duties also possible.