No one ever said training for battle was easy, nor energy-efficient. The "Battle Lab" is a U.S. military facility in New Jersey where more than 20,000 soldiers prepare and train for battle. The lab includes shooting ranges, vehicle rollover trainers and other high-tech simulators. But those high-tech tools suck up millions of kilowatts of power.
Now, more than a quarter of the training facility's power is being provided by renewable energy sources. The Army Corps of Engineers along with the help of contractor P & S Construction helped complete a solar power project onsite at Joint Base McGuire-Dix-Lakehurst. Photovoltaic solar panels were mounted to the roof of the Battle Lab, covering approximately 71,000 square feet.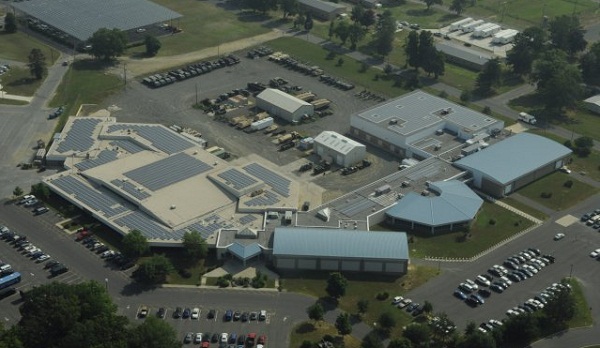 "This new array along with the pre-existing array is doubling the amount of energy that is being produced for the lab," said Jose Diaz, a project manager in the Army Corps. "Together they are providing nearly 30 percent of the lab's annual energy needs and saving the National Guard and taxpayers' approximately $118,000 annually."
Along with saving on building-energy costs, the military is also realizing another benefit from the solar installation by sending excess power produced back to the public power grid. New Jersey offers a solar renewable energy certificate program. Under the program, solar owners who generate more than 1,000 kilowatt-hours of electricity a year to the public power grid are rewarded with a renewable energy credit, which can be sold for cash. Thanks to the program, the New Jersey National Guard expects to make somewhere between $100,000-$140,000 in extra income each year. The Guard plans to reinvest the money to fund additional energy saving projects at other Army National Guard locations throughout New Jersey.