When it comes to renewable energy, Scotland seems bound and determined to make the rest of the world look bad.
As per its stated commitment to sourcing the equivalent of 100 percent of its electricity from renewable sources by 2020, the country has been involved in a veritable frenzy of renewable energy development, with much of that coming from wind, with wave and tidal power also in development. Scotland already pulls around the equivalent of 30 percent of its power from such sources, and it's got a whopping 11 gigawatts currently in the pipeline.
So, of course, the greenest nation in the EU would have to add renewable energy to an already-quite-eco bit of its nationwide infrastructure, ScotRail. Per a government "scheme," three ScotRail stations in Fife are now generating their own solar power, while a station in Montrose has erected a 33-foot-high, 15-kilowatt (kW) turbine to power its operations.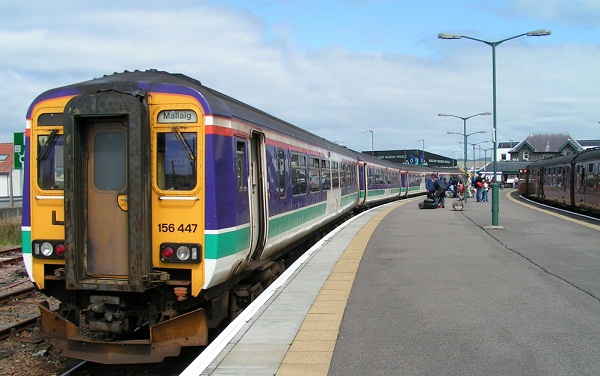 A total of 48 solar panels now grace the roofs of  ScotRail's Dunfermline Town, Kirkcaldy and Leuchars stations, producing 3,300 kilowatt-hours (kWh) of electricity at each site on an annual basis. That means a portion of the energy used to power the three stations' lighting and informational displays—as well as their heating systems—will be sourced directly from the sun, with nothing routed back into the National Grid.
An even higher percentage of the power used for the same purposes at the Montrose station will be sustainably sourced, with the new wind turbine kicking in a solid 9,000 kWh of energy annually when it is installed this spring. The turbine project will run ScotRail £75,000 (around US$120,000) and will make Montrose the first staffed rail station in Scotland to produce its own wind-generated electricity.
The wind power project is being made possible with support from Transport Scotland, the national transport agency for Scotland, which is responsible, in part, for sustainable transport, road safety and accessibility. The solar projects are wholly a project of ScotRail, which plans to bring solar power to four of its stations in total through this first roll out of solar panels, with the fourth station being Larbert in Stirlingshire.
Transport Minister Keith Brown praised ScotRail's renewable energy initiative in a statement, saying,  "I am encouraged that ScotRail is making a positive contribution to carbon emissions reduction in Scotland and look forward to further similar projects to improve the environmental performance of Scotland's railway."
Stewart Cahill, ScotRail's environmental compliance manager likewise expressed excitement over these projects as part of ScotRail's ongoing efforts to further enhance its environmental performance, but was quick to add, for the benefit of ScotRail's regular riders, that the country's rail system's is "reducing its carbon emissions without impacting on the quality service we offer our customers."
ScotRail's other renewable energy efforts, so far, include solar-powered informational displays at seven stations located in the Highlands area, as per Rail.co.
Interested in more projects that marry modern renewables with good old fashioned rail-travel? Check out the U.K.'s Blackfriars Bridge project.