Call it a desk lamp, a reading lamp, even an articulated work lamp, Hammacher Schlemmer's reading lamp is a marvel of design; sleek, stunningly simple and perfectly balanced on evenly articulated extensions, it has a uniquely shaped lampshade and a base large enough to provide stability but not so large as to be obtrusive.
More important, this reading lamp is cordless, and can be charged either via its solar panel—integral to the base mentioned above—or by a USB/AC adapter plugged into a computer or AC-configured recharger. Fortunately, the solar panel is easily removable from the base, since I can't imagine leaving a $90 lamp outside. However you choose to recharge, the solar panel will, if left in full sun for eight hours, deliver up to five hours of bright, even LED lighting. Direct charging via USB cable takes only three hours. Both deliver 100 lumens of bright white light, which is exactly enough for comfortable reading without paper-glare.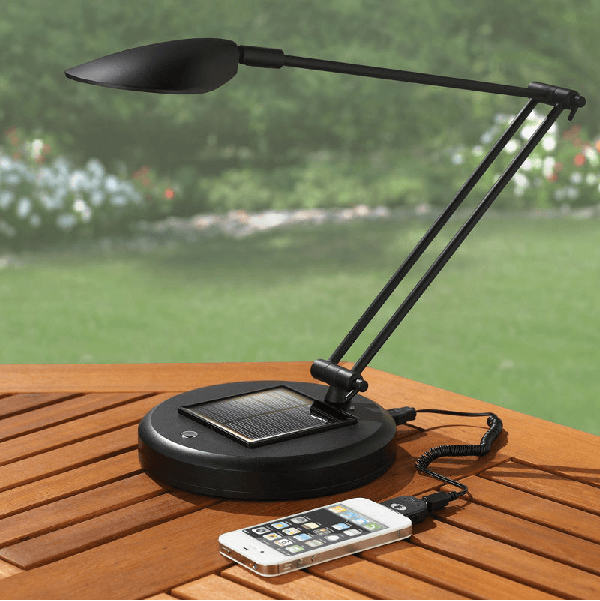 Rather than containing a single bulb, the reading lamp provides twin LEDs for a larger reading area, and the articulated head and arm adjust to any angle and lock into place to deliver light from any height—another method of increasing illumination without adding more lumens. With batteries included—a perk we've come to expect from high-end retailers like Hammacher Schlemmer—the reading lamp also comes with an extra USB cable which connects to the back of the lamp base and can be used to charge handheld electronic devices like a cell phone or MP3 player.
While not as much fun as the Firewinder, an LED lamp that relies on wind for its power (and recharges in winds as slow as three miles per hour), or as socially conscious as the LittleSun Lantern from designer/sculptor Olafur Eliasson, which promises to brighten the nights of those living in developing countries at or below poverty level, the solar rechargeable desk lamp is elegant and practical, and will make you feel like you are doing your part to cut global warming emissions. Big bonus: it also comes with a lifetime warranty.