By altering some production-line techniques, Suntech has wrung 20.3 percent efficiency from standard p-silicon wafers.
The global leader in solar panel manufacturing, China's Suntech said that its industry-leading Pluto cell technology set a world record for efficiency in its production lab, using standard commercial-grade p-type silicon wafers, by making some alterations in the processing techniques.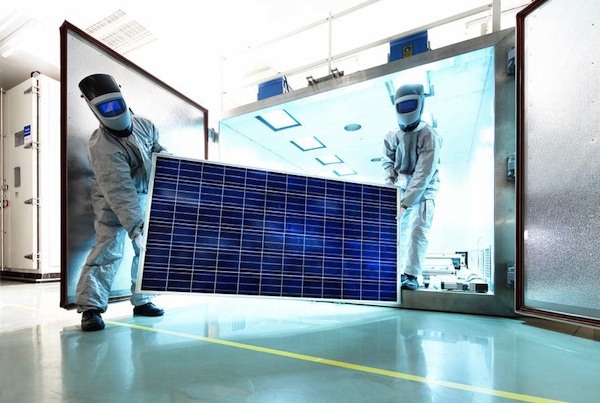 Suntech's Australian research and development team, working with the University of New South Wales, implemented processing changes in its simulated production line to minimize the use of high temperatures needed to apply the high-efficiency processes to the most commonly used commercial wafers.
The changes improve the rear surface design by reducing the metal/silicon interface area while keeping the remaining non-contacted area stable.
The researchers incorporated similar high-efficiency characteristics of Suntech's already record-holding PERL cell technology into its normal Pluto cell manufacturing process of its Pluto cell.
The solar efficiency of a photovoltaic (PV) cell indicates how much of the light hitting it is converted to power. Measurements are verified and tracked by a number of different organizations (including the National Renewable Energy Lab) in several categories and subcategories depending on the architecture of and materials used in the cell.
The 20.3 percent efficiency of the improved Pluto cell technology has been independently confirmed by Singapore's Solar Energy Research Institute. Now Suntech is working on translating the lab results to the actual mass production line.
What is exciting about Suntech's efficiency advances is that these are not just exciting lab projects doomed to fade away in the oft-bemoaned "valley of death" between pure research and commercialization for lack of the venture capital financing to bring them to reality.
Suntech is the global leader in solar panel manufacturing – and so it has the wherewithal to bypass that financing stumbling block on its own. Named by Fast Company to the top 10 most innovative companies in China, its vibrant research culture is generated by 400 R&D researchers employed worldwide, in long-term research partnerships with universities, such as the one in Australia.
"Technology innovation is imbued in Suntech's DNA," says Stuart Wenham, Suntech's chief technology officer.
So lab results like these can actually move fairly seamlessly to the production floor, because, as the world's biggest solar manufacturer, it can self-fund what is needed to get the changes onto the production line. The effect is powerful.
For example, as recently as the end of 2010, this same cell in production was yielding just 12 percent efficiency, and a mere two years later, it is now at 19 percent in production. Next, Suntech's labs are working on reaching 21.0 percent efficiency—by 2013 in the lab, and from there to the production line.