Back in 2009, the U.S. Navy set a goal [PDF] of cutting its fossil fuel dependence in half by 2020 and, as one would expect from a highly disciplined group of people, it's been making moves to achieve that goal ever since. As part of that effort, the Navy is harnessing the hot Cuban sun to produce energy for the Naval base in Guantanamo Bay, Cuba. In collaboration with Tampa-based Solar Source, military personnel will enjoy hot showers and treadmills courtesy of the 1,200 panel solar installation that powers the new fitness center.
Solar Source said it engineered, sourced and constructed the ground-mount system which was no simple feat. Installing the ground-mount solar power system into the dense shell and rock ground took a bit of expertise and oomph in the form of giant six-foot screws and custom augers. The 300-kilowatt (kW) installation is the largest solar array in Cuba.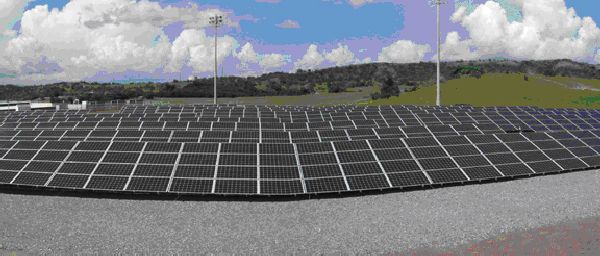 While the solar installation is a move to reduce environmental impact, it also provides some logistical benefits. Guantanamo Bay's military base has been producing its own electricity since the 1960s, when Rear Admiral John Bulkeley led the charge to become independent of Cuba's water and power supply. However, their system of using diesel fuel shipped from overseas made electricity quite expensive and far from eco-friendly. The new 300-kW solar array is one step to produce energy locally, reduce costs and lighten the base's carbon footprint.
Beyond the solar array, the naval base is also working to conserve energy on the base through "mock utility bills" and using vehicles powered by alternative fuels.