Those shingles on your roof have nothing better to do than soak up the sun all day long—why not put them to work in powering your home as solar power producers? It's a commonsense concept, and one that Dow Solar (a division of Dow Chemical) has been working on for a while. But new research from the University of New South Wales (UNSW) in Australia may go one better, by helping to develop solar shingles that also help to heat your home.
Researchers at the university have produced a prototype of a photovoltaic/thermal system that has demonstrated the ability to produce warm (25 degrees Celsius, or 77 Fahrenheit) throughout winter. The technology employed by the system was developed by UNSW's School of Photovoltaic and Renewable Engineering, and will be integrated into roofing panels, which will then be tested and further developed through the school's Cooperative Research Centre (CRC) for Low-Carbon Living this year.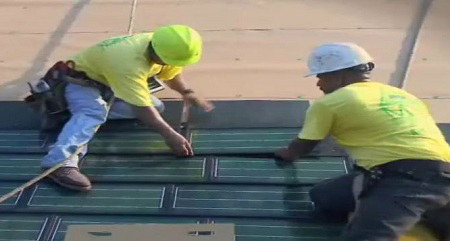 The shingles are one of a number of 'carbon-positive' products, as they're called, designed to help to prepare Australia for a zero carbon building code, which is being introduced in the UK and Europe in 2016. With Australia increasingly ramping up renewable energy—and cutting the carbon emissions across the board, as evidenced by its recent passage of a significant carbon tax on big polluters—it seems likely to follow suit.
These products, aimed at cutting the carbon footprint of the average Australian home, will be tested beginning later this year in UNSW's "living laboratories," the latest of which is located in the recently constructed Tyree Energy Technologies Building, built by Brookfield Multiplex, one of the CRC's industry partners, at the university's Kensington campus. During testing, the building's residents and staff will test the effectiveness of these solar roofing materials, with feedback incorporated into the design process in preparation for the commercial market.
In the U.S., similar efforts are under way to develop products for the green building industry through the Energy Innovation Hub in Philadelphia, which was established back in 2010 as a center for research innovations in the field of green building.  This Hub brings together researchers from Penn State, the private sector and two national laboratories with the aim of developing and testing technologies with the power to cut the carbon footprint of the built environment.
As for solar shingle technologies in this country, they have already hit the commercial market, but in a curiously small way, as Dow Solar has made its Powerhouse solar shingle systems commercially available exclusively to homeowners in the state of Colorado. They're being sold as part of a three-part solar roofing system, which includes an array of shingles, an inverter and an energy monitoring system.
Dow is certainly not the first company to throw its hat in the solar shingle ring, but its brand recognition and partnerships with mega-builders like D.R. Horton may well give it an edge in this burgeoning market for such tech. The company is currently working on establishing a network of authorized dealers for Powerhouse shingles in Colorado, and will also launch the product in another, undisclosed U.S. market soon.